USD/IDR: Rupiah Rises on Surprise rate Hike
USD/IDR snapped a 7-day winning streak after Bank Indonesia (BD) unexpectedly raised rates by 25 basis-points to 3.75 percent on Tuesday.
The policy adjustment comes ahead of a planned increase in the price of subsidized fuel. Surprisingly, unlike many central banks, the rate hike is the first time this year the BI have tightened policy. The decision follows an upbeat assessment of economic growth which is expected to rise above 5 percent year-on-year.
With this in mind, the central bank must feel the economy can withstand higher rates. Analysts expect the bank to tighten further should food prices remain high in the coming months. As such, the immediate outlook for the rupiah is improving.
Compared to some Asian currencies, the Indonesian rupiah is holding up well against the US dollar. Considering the Japanese Yen is down almost 20 percent against the buck, the rupiah's 4 percent drop is commendable.
The reason is, that high oil prices continue to support Indonesia's growing trade surplus. The nation is a net exporter of energy, and profits from countries and institutions who send money to Indonesia for oil and gas. Considering the price of oil has jumped 10 percent this week, USD/IDR could have further to fall.
Dollar to Rupiah Price Forecast
The daily chart shows USD/IDR is turning lower from the 50-Day Moving Average at 14,898 (green line). As a result, the 50-DMA becomes the first technical resistance level. And as long as the pair remains below the indicator, lower prices should follow.
Beneath the market, an obvious target is the 100-DMA at 14,703 (blue line). Notably the sharp sell-off earlier this month reversed after perfectly tagging the 100-DMA. Taking this into account, USD/IDR will likely find strong support towards the longer-term indicator.
Considering the surprise rate hike, the price of oil and the strong overhead resistance, the immediate outlook is lower. Although, a packed slate of US economic data this week may well derail the forecast. For that reason, a close above the 50-DMA flips the near-term outlook to bullish.
USD/IDR Price Chart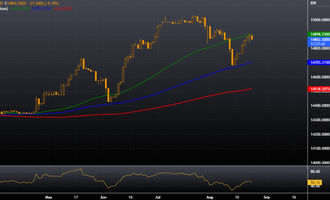 Elliot Laybourne
Elliott is a former investment banker with a 20 year career in the city of London. During this time he held senior roles at ABN Amro, Societe Generale, Marex Financial and Natixis bank, specialising in commodity derivatives and options market-making. During this time, Elliott's client list included Goldman Sachs, JP Morgan, Credit Suisse, Schroders Asset Management, and the Pennsylvania State Public School Employees Retirement System, amongst others. Today, he splits his time between Thailand and Dubai, from where he provides trading consultancy and business development services for family office and brokerage clientele.