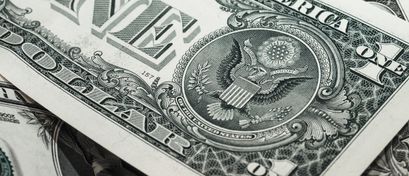 USD/JPY Hits 24-Year High: Now What?
USD/JPY extended the recent gains to the highest level since 2008 as investors continue to brace for higher interest rates in the US.
The US dollar climbed within touching distance of the psychological 140.00 marker, reaching 139.68 against the yen on Thursday. Interest rate differentials between the US and Japan are the driving force behind the dollar's rally, helping it appreciate over 20 percent since the start of the year.
While the Federal Reserve Open Market Committee (FOMC) is raising rates aggressively to fight inflation, the Bank of Japan (BoJ) is yet to act. Furthermore, recent economic data stateside means a 75bp hike at the next Fed policy meeting is almost assured.
So long as expectations for the peak in the Fed funds rate keep ratcheting higher while the Bank of Japan remains on hold, dollar/yen will be a buy on dips. Anywhere in the low 140s now looks plausible

Westpac currency strategist Sean Callow,
The final nail in the yen's coffin could come as soon as tomorrow. On Friday, the Non-Farm Payrolls (NFP) and unemployment data are expected to show improving US labor conditions. In this event, the Fed will have more room to tighten in the months ahead.
Dollar to Yen Price Forecast
The daily chart shows USD/JPY's rally is gathering pace. After spending the last four days nudging against the July high, the breakthrough finally came this morning.
The dollar is likely to remain well bid approaching tomorrow's data. With this in mind, an attempt to clear the 140.00 level could be on the cards.
Below the market, the the former August highs around 136.60 provide technical support. As does the 50-Day Moving Average at 136.00 (green line). However, a concern for the bulls is that the Relative Strength Index (RSI) reading of 66.5 is on the high side. Technical traders usually consider a reading >70.00 as 'over-bought', which may discourage buying.
One thing to remember, is that if the jobs data disappoints, the dollar is likely to weaken. Considering the consensus expectation is a high dollar, a reversal could be violent. For that reason, a close below the 50-DMA cancels the bullish view.
USD/JPY Price Chart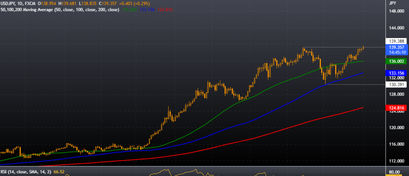 Elliot Laybourne
Elliott is a former investment banker with a 20 year career in the city of London. During this time he held senior roles at ABN Amro, Societe Generale, Marex Financial and Natixis bank, specialising in commodity derivatives and options market-making. During this time, Elliott's client list included Goldman Sachs, JP Morgan, Credit Suisse, Schroders Asset Management, and the Pennsylvania State Public School Employees Retirement System, amongst others. Today, he splits his time between Thailand and Dubai, from where he provides trading consultancy and business development services for family office and brokerage clientele.