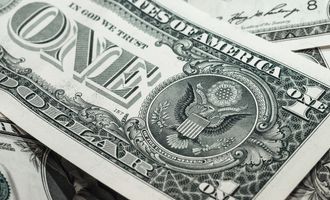 NZD/USD Tags 27-Month Low on USD Strength
NZD/USD touched its lowest level since May 2020 on Wednesday as traders position for an odds-on 75 basis point rate hike at the next FOMC meeting.
The NZ dollar continues it's under-performance against the Aussie and the US dollar. In Wednesday's session, the Kiwi slipped to it lowest point versus the buck in over two years. Although, NZD is attempting to recover from Wednesday's 0.5996 abyss in early Thursday trading, and currently 1.49% higher at 0.6080. Nevertheless, the kiwi has some way to go to to eat into the US dollar's 11.5% appreciation this year.
Remarkably, most of the dollar's gains against it's smaller namesake have come in the last month. After rallying over 6.00% from the June lows, USD/NZD gave it all back, and more. The US dollar has been on a tear recently. The dollar index, which measures USD's strength against a basket of currencies, recently touched two-decade high. Subsequently, in that time, NZD/USD has fallen over 7% in teh last four weeks, breaching the July low's in the process.
The reason behind USD's strength is twofold. Firstly, improvements in the US labor market have increased the chances of an aggressive rate hike at the next FOMC. The market is currently pricing 90% odds of 75bp increase in benchmark borrowing costs. Furthermore, USD is seeing strong safe-haven flows due to the energy crisis in Europe and the growth slowdown is Asia.
However, how much of this is already backed in the cake is unclear. Whilst the dollar strength is understandable, surely it can't keep moving higher at the same rate?
US Dollar to NZ Dollar Forecast
The daily chart shows USD/NZD is trending lower above a descending trend line. Notably, the Kiwi is attempting to push back above 0.6100 this morning. Should the rate clear 0.6100 we may see some near-term NZD strength. In this event, we look to the 50-Day Moving Average (DMA) at 0.6211 (green line) as a potential upside target.
On the other hand, a slide below yesterday's low should encourage an extension towards the descending trend line at 0.5900. For now, NZD/USD is likely to consolidate in the 0.600 – 0.6100 range. For that reason, the immediate outlook is neutral, awaiting further inputs.
NZD/USD Price Chart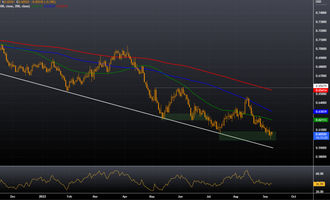 Elliot Laybourne
Elliott is a former investment banker with a 20 year career in the city of London. During this time he held senior roles at ABN Amro, Societe Generale, Marex Financial and Natixis bank, specialising in commodity derivatives and options market-making. During this time, Elliott's client list included Goldman Sachs, JP Morgan, Credit Suisse, Schroders Asset Management, and the Pennsylvania State Public School Employees Retirement System, amongst others. Today, he splits his time between Thailand and Dubai, from where he provides trading consultancy and business development services for family office and brokerage clientele.