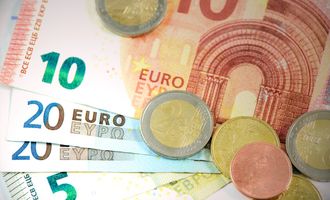 GBP/EUR: Pound Bounces From key Support
GBP/EUR slid to a one-year low on Monday after the latest GDP data showed the UK economy grew less than forecast last month.
UK Gross Domestic Product for August came in at 0.25 (MoM) versus expectations of 0.3 and higher than the -0.6% contraction in July.
Following the announcement, the pound slipped to 1.1466 against the Euro, briefly piercing the lows from June 2022 and April 2021. However, some late-day strength helped the pound recover earlier losses, eventually closing the day with a marginal gain.
In early Asian trading Tuesday, GBP/EUR is trading at 1.1534 (-0.04%), up around 0.60% from Monday's low. We expect the pair to remain subdued ahead of the UK inflation data released on Wednesday.
Analysts expect the UK Consumer Price Index (CPI) to show inflation rose at an annualized rate of 10.2% in August, up from 10.1% in July. Following the CPI, we look to the UK retail Sales data on Friday for clues on the health of the UK economy.
Notably, the scheduled Bank of England (BoE) canceled this week's Monetary Policy Committee (MPC) meeting due to the death of Queen Elizabeth II. The central bank was widely expected to deliver a seventh-consecutive rate hike, lifting benchmark rates above 2.00%. Instead, we will have to wait until September 22 for the BoE's decision.
Sterling to Euro Outlook
The daily chart shows GBP/EUR bounced from the support of the June lows around 1.1468 on Monday. As such, a bullish double-bottom has formed, providing technical support. Furthermore, the pair is attempting to clear the horizontal resistance offered by the July lows at 1.1524. To continue higher, GBP/EUR must stabilize above 1.1524, or risk falling back towards the June low.
Should the pound respond positively to the CPI, the next resistance is seen at 1.1630. Above that, the 100-Day Moving Average (DMA) at 1.1743 (blue line) is an additional target. In contrast, 1.1524 (July low) is the first notable support, followed by the double-bottom at 1.1469.
GBP/EUR Price Chart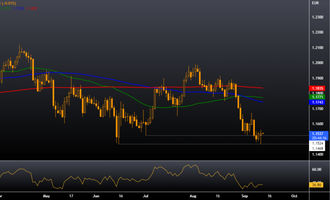 Elliot Laybourne
Elliott is a former investment banker with a 20 year career in the city of London. During this time he held senior roles at ABN Amro, Societe Generale, Marex Financial and Natixis bank, specialising in commodity derivatives and options market-making. During this time, Elliott's client list included Goldman Sachs, JP Morgan, Credit Suisse, Schroders Asset Management, and the Pennsylvania State Public School Employees Retirement System, amongst others. Today, he splits his time between Thailand and Dubai, from where he provides trading consultancy and business development services for family office and brokerage clientele.