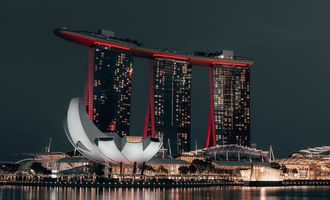 USD/SGD: Singapore Dollar Stable Above 1.4000
The USD/SGD pair is treading water around the 1.4060 mark in Asian trading hours Thursday as traders brace for key US economic data releases.
The Singapore dollar is attempting to trim the loss taken against the greenback following the inflation data released earlier this week. SGD, like most Asian currencies, lost considerable ground on Tuesday when the US Consumer Price Index (CPI) came in above expectations. Analysts were calling for an 8.1% increase (Year-on-Year) in August, down from 8.5% in July. However, the 8.3% rise wrong-footed analysts and traders alike, sending the US dollar sharply higher.
Following the CPI print, USD/SGD spiked from 1.3940 to an intraday high of 1.4070 before ending the session up 0.70% at 1.4069. The 1.4070 level was again the high on Wednesday when the Singapore dollar firmed slightly to 1.4057, close to its current price.
Despite several banks forecasting Singapore dollar strength, USD/SGD remains close to the two-year high of 1.4107 on September 7. At the start of the month, Goldman Sachs, Citigroup, and RBC published bullish reports advising clients to buy the Singapore dollar. However, the bullish calls have failed to play out as expected.
Economic data Watch
A packed data schedule today could have implications for USD/SGD. Kicking off proceedings is the US Retail Sales number for August, expected to improve by 1.0%.
Next comes the Initial Jobless claims, forecast at 226k, up from 222k in July. Last up is the Philadelphia Fed Manufacturing data, forecast at 2.8, down from 6.2 in August.
US Dollar to Singapore Dollar Forecast
The daily chart shows USD/SGD is trading close to two former two-year highs just above 1.4100. As such, we expect the rate to see resistance at the current level. That being said, the slew of economic data later today could push the buck higher. A daily close above 1.4107 (September 7 high), will likely encourage USD strength. Here, an extension towards 1.4200 is possible.
However, if the dollar responds poorly to the data, USD/SGD could track lower to the support of the 50-Day Moving Average (DMA). The 50-DMA at 1.3915 (green line) has proved a significant support and resistance level this year. Backing up the 50-DMA, the 100-DMA at 1.3882 (blue) reinforces the support below the market. For this reason, we expect USD/SGD to trade with a bullish tone. However, a daily close below the 100-DMA invalidates this view.
Are you tired of paying to much for international transfers? If so, then check out our free comparison tool to discover the cheapest way to send money abroad.
USD/SGD Price Chart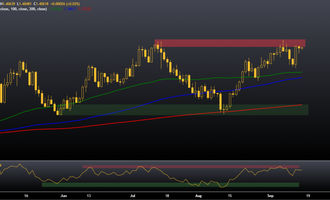 Elliot Laybourne
Elliott is a former investment banker with a 20 year career in the city of London. During this time he held senior roles at ABN Amro, Societe Generale, Marex Financial and Natixis bank, specialising in commodity derivatives and options market-making. During this time, Elliott's client list included Goldman Sachs, JP Morgan, Credit Suisse, Schroders Asset Management, and the Pennsylvania State Public School Employees Retirement System, amongst others. Today, he splits his time between Thailand and Dubai, from where he provides trading consultancy and business development services for family office and brokerage clientele.