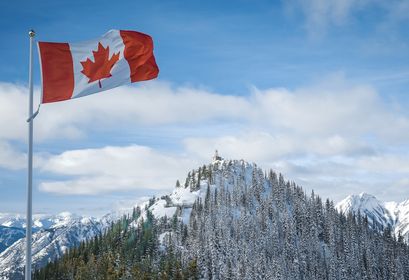 USD/CAD: US Dollar Pushes to Key Resistance
USD/CAD jumped almost 2% last week as the greenback's strength forced the Canadian dollar to the lowest level versus the buck this year.
The Canadian dollar briefly dipped below 1.3300 before ending the week down 1.88% at 132.65. The "Loonie's" latest bout of weakness sees it down 4.90% against the buck in 2022. Notably, the Canadian dollar narrowed the year-to-date loss to 0.66% in August before the resurgent dollar extended its lead in the last four weeks.
The US dollar Index reached a twenty-year high of 110.78 earlier this month after the Consumer Price Index (CPI) data came in above expectations. The inflation gauge surprised the market, printing 8.3%, above analyst forecasts of 8.10%. As a result, interest rate expectations rose, with a 0.75% rate hike at this week's Fed meeting almost assured.
Furthermore, some are calling for the Federal Open Market Committee to raise rates by 1.00% to combat inflation.
Another factor working against the Canadian dollar is falling energy prices. Crude oil and gas prices have slumped recently due to the economic slowdown in China. Canada, a net exporter of both products, derives 10% of its GDP from energy exports. Therefore, weaker energy translates to lower Canadian Gross Domestic Product, which could weaken CAD further.
Are you paying too much to for international transfers? If so, check out our free comparison tool to find out the cheapest way to send money abroad.
US Dollar to Canadian Dollar Forecast
The weekly chart shows USD/CAD has cleared the significant resistance of the 200-Week Moving Average (WMA). The 200-WMA at 1.3027 (red line) now becomes long-term technical support. Notably, the top-edge of a rising trend channel at 1.3300 has so far, capped USD's rally. With that in mind, a close above 1.3300 should encourage more gains. In this event, the horizontal resistance of the September 2021 high at 1.3418 is the next obstacle to clear. Above that, an extension to the 2018 high at 1.3665 is possible.
We expect USD/CAD to trade with a bullish bias as long as the rate remains above the 200-WMA. With that in mind, a close below 1.3027 flips our medium-term view from bullish to neutral. Whereas a close below the 100-WMA at 1.2680 (blue) and the rising trend support at 1.2585 ushers in a bearish outlook.
USD/CAD Price Chart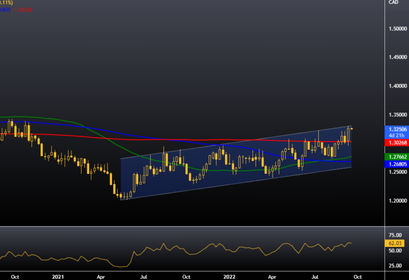 Elliot Laybourne
Elliott is a former investment banker with a 20 year career in the city of London. During this time he held senior roles at ABN Amro, Societe Generale, Marex Financial and Natixis bank, specialising in commodity derivatives and options market-making. During this time, Elliott's client list included Goldman Sachs, JP Morgan, Credit Suisse, Schroders Asset Management, and the Pennsylvania State Public School Employees Retirement System, amongst others. Today, he splits his time between Thailand and Dubai, from where he provides trading consultancy and business development services for family office and brokerage clientele.