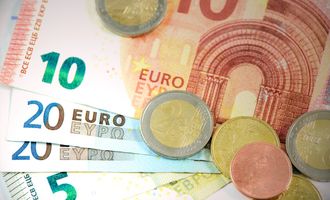 EUR/USD: How Low is Low Enough?
EUR/USD continues to gyrate on either side of parity as the market counts down to tomorrow's potentially critical FOMC decision.
The Euro has managed to post modest gains in each of the last three trading days. However, the 0.60% increase has hardly left a dent in the 1.5% loss the Euro suffered the previous week following the US inflation data.
USD saw a wave of buying after the Consumer Price Index surprised on the upside. The inflation gauge came in at 8.3% (annualized), above the consensus analysts forecast of 8.1%. Subsequently, the Euro erased three days of gains against the dollar, falling from 1.0190 to 0.9967.
Since then, EUR/USD has stabilized and currently on track for a fourth consecutive up day. However, whether the Euro can extend higher from here depends on tomorrow's FOMC.
On Wednesday September 21, the Federal Market Open Committee will announce its interest rate decision. Analysts exopect to the fed to deliver its third consecutive 75 basis point hike, lifting rates to 3.25%.
We consider the projected hike as priced into the market. On that basis, if indeed the Fed moves rates higher 75 bp, the price action may be mute. That is, unless Fed Chair Jerome Powell's speech following the decision is overly hawkish. Moreover, there is a slim possibility of a 100 bp hike. In that event, EUR/USD is likely to plumb new depths.
Check out our free comparison tool to find out the cheapest way to send money abroad.
Euro to US Dollar Forecast
A quick look at the daily price chart shows EUR/USD is trending lower in a descending channel. The formation's upper-edge at 1.0150 offers technical resistance, and a significant obstacle for the bulls. Notably, the 50-Day Moving Average (DMA) at 1.0098 reinforces the trend resistance.
Should EUR/USD post a daily close above the 50-DMA and the descending trend, we should expect the Euro to extend further. Here, the 100-DMA at 1.0380 (blue) is a logical destination.
In contrast, a daily close below the horizontal support at 0.9875, opens the door towards the lower-edge of the descending channel at 0.9500.
EUR/USD Price Chart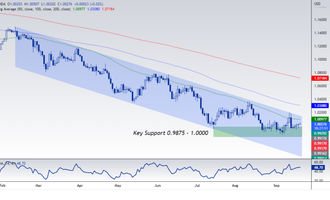 Elliot Laybourne
Elliott is a former investment banker with a 20 year career in the city of London. During this time he held senior roles at ABN Amro, Societe Generale, Marex Financial and Natixis bank, specialising in commodity derivatives and options market-making. During this time, Elliott's client list included Goldman Sachs, JP Morgan, Credit Suisse, Schroders Asset Management, and the Pennsylvania State Public School Employees Retirement System, amongst others. Today, he splits his time between Thailand and Dubai, from where he provides trading consultancy and business development services for family office and brokerage clientele.