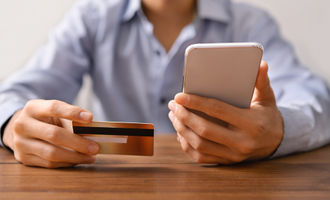 Apple Pay and Alipay Overtake Two Major Credit Card Giants

Yasmin Purnell
Across the globe, digital payments are rapidly catching up to the credit card giants that have held a monopoly over payment processes for years. In fact, according to MoneyTransfers.com, Apple Pay is already the second biggest payment provider in the world.
MoneyTransfers.com has looked into data revealing that two digital payment providers; Apple Pay and Alipay, have already overtaken Mastercard and American Express in terms of annual global payment volume, with PayPal, Amazon Pay, and Samsung Pay only set to grow even more in the next few years.
Why are digital payments increasing in popularity?
According to the Johnathan Merry, CEO of MoneyTransfers.com, the growth in digital payment usage can be attributed to a number of factors:
"From online purchases to overseas remittances, we're seeing a steady uptick in the reliance on digital payment processes across the globe. As the world shifts to a mobile-first culture, credit card giants that formerly seemed immovable are being swiftly squeezed out by these more innovative digital payment firms."

Johnathan Merry, CEO of MoneyTransfers.com
The uptick in digital payment usage may also be attributed to the shift to contactless payments throughout and after the COVID-19 pandemic. Indeed, Apple Pay activations by iPhone users grew by more than 65 million people in 2020, as contactless payment limits were lifted and became the norm in a globe desperately attempting to reduce transmissions of the virus that locked down nations for months.
Global market wallet forecasts
Digital payments may have boomed in the wake of the pandemic, but this technology is showing no signs of slumping. There are over six billion smartphone subscriptions worldwide in 2022, a figure that is set to grow by several hundred million in the coming years. With over 2.3 billion mobile wallets in the world already, it's no question that Apple Pay and the other digital payment providers currently dominating the market will skyrocket in growth. 
The use of Apple Pay, Google Pay, and other digital payment providers is predicted to double between 2020 and 2025 in North America. In Asia, where the adoption of numerous fintech services including digital payments and alternative lending is more popular than any other region, the market size is forecast to grow even larger by 2025.
The question remains, will the credit card giants remain central players in the field, or will digital wallets overtake the payments process altogether?
Yasmin Purnell
Yasmin Purnell is a Content Writer and Editor for Moneytransfers.com. Yasmin has a wealth of experience writing across a range of topics within the personal finance, student, and business niche. Yasmin joined the team with the one main mission to provide accessible financial, career and business information and advice for all.