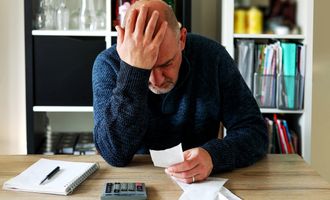 54% of UK Adults Face Increase Anxiety Due to Rising Cost of Living

Yasmin Purnell
It's no surprise that the escalating cost of living crisis is having a huge impact on millions of families in the UK. With incomes rising nowhere as quickly as mortgage rates, fuel costs, energy bills, and other daily essentials, many families are being forced to make the choice between basic necessities just to get by.
MoneyTransfers.com have compiled a number of ground-breaking reports to reveal just how this crisis is affecting the mental health of the UK population.
There is no lack of research on the cost of living crisis is have on the UK's population. What's clear is that people with pre-existing mental health conditions and minority groups are being heavily impacted by rising costs, and the support offered to these groups is currently lacking.

With over half of UK adults facing worsening mental health as a result of the rising costs, the future impact on those vulnerable groups in our society remains to be seen – but the figures we've revealed below paint out a bleak picture.

Jonathan Merry, CEO of MoneyTransfers.com
71% of people with poor mental health anxious of cost of living
The Money and Mental Health Organisation released figures that showed over half (54%) of UK adults felt anxious as a result of higher prices in 2022, while one in five (21%) had felt unable to cope with increasing costs. Beyond that, however, amongst people with pre-existing mental health conditions, a huge 71% reported feeling anxious over rising costs, while 61% felt depressed.
What's more, people who already struggled with their mental health are amongst those most affected by the rising current climate. 83% of respondents in the survey with an existing mental health problem confirmed they had made a change in their lifestyle in response to rising costs, with 70% using less energy and 59% cutting back on essential items.
In comparison, amongst the rest of the adults surveyed we can see lower figures taking action to respond to the increasing costs across all categories. Just 61% used less energy, while only 46% cut back on essential spending.
Mental health support cutbacks
The toll of the crisis is causing many people in need of mental health services to cut back even on those areas in order to save money. A survey by BACP revealed that 49% of therapists surveyed said their clients were cutting back on activities that improved their mental health, such as fitness memberships. Likewise, 60% of therapists reported that their clients were cutting back on therapy due to money worries.
Six in 10 (61%) therapists surveyed agreed that their clients were anxious about being able to afford their household bills. Although there are often numerous factors affecting a person's mental health, previous reports found that 19% of mental health patients who committed suicide between 2009 – 2019 had "experienced economic adversity".
Gender and other biases in the cost of living crisis
Research from Aegon further adds to the full picture of the current crisis and its effect on mental health. The study of 2,000 adults found that 69% of women were concerned about their finances, compared with 56% of men.
The Women's Budget Group report adds to this – reporting that "women act as the 'shock absorbers of poverty" and that "the stress and stigma associated with poverty has an impact on women's physical and mental health". Meanwhile, over half (51%) of disabled people report that rising prices have had a worsening effect on their mental health.
Yasmin Purnell
Yasmin Purnell is a Content Writer and Editor for Moneytransfers.com. Yasmin has a wealth of experience writing across a range of topics within the personal finance, student, and business niche. Yasmin joined the team with the one main mission to provide accessible financial, career and business information and advice for all.