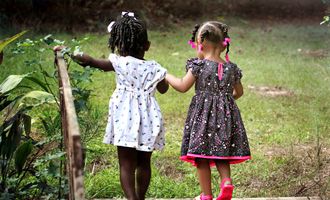 Childcare Is Costing UK Parents More Than 2/3 of Their Salaries in 2022

Elizabeth Kerr
Children are always a joy to have around, but they come with a lot of responsibility – and expenses. If you're a working parent in the UK, childcare costs can quickly consume a large chunk of your salary. According to MoneyTransfers.com, childcare costs UK parents more than 2/3 of their wages in 2022.
The CEO of MoneyTransfers, Jonathan Merry, gave his views on the data. He said,
The high cost of childcare is a real burden for UK families. It's no wonder that many parents are struggling to make ends meet. The government needs to do more to help families with the cost of childcare. The high cost of childcare can also impact a family's ability to save for their future. It's important for parents to start saving for their children's future as early as possible. But with childcare costs eating up so much of their income, it's no wonder that many families are finding it difficult to put anything away.

CEO of MoneyTransfers, Jonathan Merry
Families spend, on average, £62 a week for an after-school club for five days. The cost of sending a child under two to nursery ranges from part-time (25 hours) at £137.69 per week to full-time (50 hours) care at £263.81 weekly.
However, there is some help available for parents with the cost of childcare. For example, the government offers tax-free childcare, which could give you up to £2,000 per child towards eligible childcare costs.
Who Is Eligible for Childcare in the UK?
People with dependent children can access childcare in the United Kingdom. To receive state subsidies like free hours or vouchers for dependent care, you must usually be a UK citizen or permanent resident or hold a visa that allows access to public funds. 
Those struggling to afford childcare but do not have access to public funding can try searching for free options in their local area.
Childcare allows people to work and earn a salary while knowing their children are cared for in a safe environment. The government offers part of early education for 3- and 4-year-olds in England. Some 2-year-olds are also eligible for 15 hours a week of free childcare.
Is Increasing the Working Hours the Way to Go?
The issue of Childcare, coupled with an increased cost of living, needs a solution that will positively impact the family's budget. One suggestion is for the government to allow employees to request flexible working hours.
If more parents can work flexibly, it would ease the pressure on families struggling to afford childcare. It would also allow parents to spend more time with their children, which is priceless.
The government could offer more subsidies or tax breaks for parents. Employers could also do their part by offering employees on-site or flexible childcare options.
Elizabeth Kerr
Elizabeth is a financial content specialist from Manchester. Her specialities include cryptocurrency, data analysis and financial regulation.