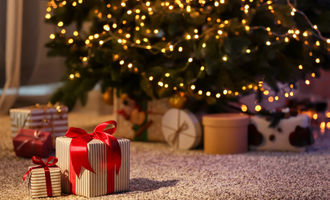 Over a Third of US Adults Planning to Spend More on Christmas Gifts This Year

Yasmin Purnell
A recent survey released by MoneyTransfers.com in conjunction with OnePoll has revealed that despite consumer prices increasing 9.1% over the year, shockingly, over a third of American adults surveyed are still planning on spending more on Christmas gifts than they did last year.
– 36% of American adults are planning on spending more on gifts this Christmas
– 30% of adults surveyed plan to spend the same amount as they did last year
– 3% of those surveyed said they plan to skip Christmas gifts altogether this year due to the high cost of living
Jonathan Merry, CEO of MoneyTransfers.com, comments:
Despite the cost of living being the highest it's been in years, consumers are still planning on embracing the festive season and the added expense that comes with this time of year. While this is no doubt good news for the retailers who rely heavily on additional spending over the holiday season, the worry, of course, is that families are spending more than they can afford in order to keep up with traditions. 
It's likely we'll see a significant downturn in spending in the new year in an attempt to off-set the additional spending many households are accounting for in the last few months of 2022.
Over 12 months, the Consumer Price Index for all consumer goods (including food, energy, and recreation services) increased by 9.1% from June 2021 to June 2022 – the highest increase seen in over 40 years. Despite this, Christmas spending is higher than ever.
The MoneyTransfers survey, carried out on 2,000 US adults, found that over a third of American adults (36%) are planning to spend more on Christmas gifts this year despite the cost of living crisis, while 30% are planning on spending the same amount. Just 3% of respondents are skipping Christmas gifts altogether.
A Week's Wages on Gifts
This year, consumers are expected to spend approximately $932 on Christmas gifts – a 5% increase from 2021, and the highest estimated gift spend in over 20 years. 
Considering the average wage for US workers in the second quarter of 2022 was $1,041 per week, that's almost an entire week's wage per person spent on a single day.
What's more, consumers spent an additional $231 on non-gift items such as decorations, and $118 on other non-gift purchases in 2021 according to the National Retail Federation (NRF). Altogether, we can expect the total figure the average American spends on Christmas in 2022 to reach well above the $1,000 mark.
Brits expecting to spend less
Across the pond in the UK, there's a very different picture. A recent YouGov report revealed that 60% of Brits expect to spend less on their Christmas spending due to the cost of living crisis – with the majority of parents of children aged 10 and under expecting to spend less on presents compared to previous years.
In comparison to the US-based survey, just 2% of Brits expected to spend more on Christmas this year than usual.
Yasmin Purnell
Yasmin Purnell is a Content Writer and Editor for Moneytransfers.com. Yasmin has a wealth of experience writing across a range of topics within the personal finance, student, and business niche. Yasmin joined the team with the one main mission to provide accessible financial, career and business information and advice for all.