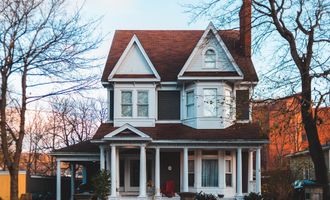 The 10 Best Places to Buy a House in the US

Aleksandar Hrubenja
So you're thinking of settling down and buying a home? Clearly, that's a very difficult decision to make. However, choosing the actual home is the fun part. You get to walk around your potential new place, dream of how you're going to decorate it, and think about the memories you will make in it. But choosing the actual location is another matter.
The United States is a big place, and the right location is difficult to find. You need to consider job opportunities, the cost of living, and whether you can build a future there in general. For that reason, we have listed out a couple of cities you can choose from, as well as an analysis of just what kind of life you can expect there.
The 10 Best Places to Buy a House in the US in 2023
Charlotte, North Carolina
The first place on our list is among the 25 largest cities in the United States. Known as the Queen City, it has mild weather, mountains, and a wonderful food scene. In fact, it's perfect for anybody who loves the outdoors, especially when you account that the coastline is 300 miles away, perfect for a nice weekend on the beach.
On the financial side of things, a single-family home will set you back roughly $400,000, slightly higher than the national $484,900 median value.
The region is developing slowly but surely, with a significant rise in new jobs in the last year, most of them in finance, insurance, tech, and warehousing. And since there are 25 colleges in the area, it has a young and educated workforce. In fact, it has the largest number of top-ranked public schools in the state, making it easily among the best places to buy a house in the USA.
The estimated monthly costs for a family of four amount to roughly $3,600 dollars, which is somewhat lower than the national average of $3,692. Note that this does not include your mortgage payments or rent. 
Denver, Colorado
Next, we have Denver, Colorado. Whether you're moving to the USA as an expat or want to stay in the States but looking for a new home, you can't go wrong with Denver.
The place has one of the most developed and advanced park systems not only in the States but in the world. If you love the great outdoors, this is the best place to buy a house in the States for you and your family.
Note, however, that Denver can be a bit pricey. The median home value for a single-family home amounts to roughly $600,000, almost 50% more than the national median average. 
However, the number of available jobs is growing steadily. With the exception of the mining and logging industry and a slight decrease in government and hospitality jobs, job growth is expected in every other sector.
The average cost of living is $4,152 without rent and a mortgage, which is indeed higher than the national average.
Atlanta, Georgia
Mortgages haven't been this high since 2009. And yet, compared to other big cities, Atlanta is dirt cheap and probably the best place to buy a home right now. With a wonderful artistic and cultural community and a rich history in the civil rights movement, Atlanta is an excellent choice.
The average home costs $399,127, which is not only cheaper than other big cities around the US but also cheaper than the national average.
Cost of living for a family of four amounts to $3,755 without rent, making it cheaper by 25% compared to New York, and 50% cheaper than San Francisco. 
Job growth is better than the national average if a bit slow. On a sector-by-sector basis, professional and business services, as well as trade, transportation, and utilities, are very significant. 
Blue Ridge, Georgia
Do you want to live near the water? Aching for small-town life? Then check out Blue Ridge in Georgia. It's easily one of the best places to buy a lake house in the States while also being right next to the gorgeous Blue Ridge mountains, from which it got its name.
You can expect an average home value of $422,808 here in Blue Ridge, with a very strong job growth of 52% in the next ten years. However, keep in mind that the place has a population of 1,253, so perhaps remote work might be your best bet.
The average cost of living for a family of four amounts to $3,500, which does not include either rent or mortgage payments.
Galveston, Texas
Galveston is one of the best places to buy a beach house in America. In fact, it's a full-fledged beach town. It has miles upon miles of beachfront for you and your family to enjoy and spend your life on.
The median sale price for a single-family home is $449,000, with a very low cost of living at $2,269 (no housing costs included). Its job growth is a bit lower, being at 31% for the next ten years, compared to the 33.5% US average.
Also, keep in mind that there is no state income tax in Texas, which means you get to keep more money to invest in your home.
Houston, Texas
Being one of the most ethnically diverse areas in America, Houston is a palace where everyone fits in. With institutions dedicated to both the arts and industry, it has everything for everyone.
The median sale price for a single-family home is below average at $350,000. On the other hand, you can expect your average cost of living to amount to $3,368 for a four-member family. 
Job growth in Houston is solid. Similar to Atlanta, it's a bit stronger than the United States average, with a focus on trade, transportation, and utilities. If your profession is centered on any one of those sectors, it's easily one of the best places to buy a home in the States.
Tampa, Florida
Home to the gigantic Florida Aquarium, and the birthplace of the Cuban sandwich, Tampa should not be missed. It has wonderful retirement communities, with many assisted living facilities, and lots of sun all year round.
You can expect to pay $428,000 for a single-family home. Its cost of living is also acceptable, with $3,605 going to all expenses every month, excluding your mortgage and/or rent.
The predicted job growth rate is strong, with 42.7% (almost ten points higher than the US average). Jobs are mostly centered around the healthcare, finance, and digital marketing sectors.
Jacksonville, Florida
Did you know that Jacksonville has an urban park system four times the size of Manhattan? This is especially good to know once you consider its wonderful weather. Another thing is its culture. It is home to the Jacksonville Jazz Festival, the Great Atlantic Seafood and Music Festival, and the Jacksonville Museum of Science and History.
Furthermore, Jacksonville is just a two-hour drive away from Orlando, and a five-hour drive away from Atlanta, making it one of the best places to buy real estate if you do business in either of those areas. The job market is booming, and both the cost of living and real estate are very affordable.
You can expect to pay $326,950 for a four-member family home and dish out $3,476 every month on expenses. 
Just like most of the other places on our list, job growth is strong, with a 44.4% increase in the next ten years. 
Hilo, Hawaii
Have you ever dreamed of living in Hawaii? Then Hilo is the palace for you.
It's the cultural center of its region, filled with museums, restaurants, and art galleries. And, of course, Hilo is in Hawaii, meaning you get to enjoy the outstanding outdoors whenever you want. It's also close to the Volcanoes National Park, botanical gardens, and many waterfalls.
If nature is your thing, Hilo is one of the best places to own a home in America.
Owning a home in Hilo, Hawaii, is pretty costly. People pay, on average, $500,000 for a family home here. However, expenses are very low, almost 30% lower than the national average, being at $2,518 without rent or mortgage costs. 
Job growth is exactly equal to the national average, at 33.5%.
St. Paul, Minnesota
St. Paul has an outstanding reputation when it comes to its public schools and universities, earning its place on our list of the best places to buy a house. It also offers excellent healthcare and offers many appealing housing options. 
On the economic side of things, St. Paul has a nice and stable job market, with a predicted growth of 35.9%, higher than the US average. Its housing is very affordable, with $273,950 being the median listing home price. 
Its cost of living amounts to $2,949, lower than the US average, for a family of four.
Conclusion
And there you have it, folks, a list of the best cities for buying a house in the United States. Always keep in mind that this is the palace where you will be building a future. If you feel a specific place creates long-term value for you, then you know it's the right one.
Aleksandar Hrubenja
With a BA in English literature and linguistics, training provided by veteran licensed court interpreters, and direct SEO management experience, Aleksandar Hrubenja knows what good content looks like. He's tackled any topic thrown his way, spending the last six years writing articles on SEO, digital marketing, and finance - just to name a few.