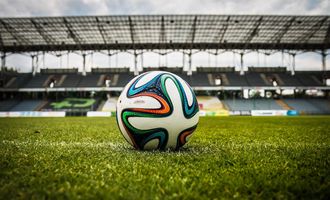 Immigration in the World Cup: 54% of Morocco's Diverse World Cup Squad Born in Other Countries

Yasmin Purnell
As part of today's semi-final World Cup match, France, the former World Cup champions, will face Morocco, an unlikely underdog among the teams competing for the title in 2022.
Thus far, Morocco has proved to be somewhat of an anomaly – becoming the first team from North Africa to reach a World Cup semi final. What sets the team about ever more, however, is the team's diversity. Of the 26-player team representing Morocco in the tournament, just 12 were born in the country. 
The remaining 54% of the team were born in other European countries, including Belgium, France itself, Italy, the Netherlands, and Spain. The electric mix has been credited for helping the team reach new heights, according to their French-born coach, Walid Regragui, who compared his "extraordinary" national team to "a milkshake" with players from multiple different countries and backgrounds.
In contrast, the French World Cup Squad has just two players born elsewhere – Eduardo Camavinga, born in Angola, and Steve Mandanda, born in the Democratic Republic of the Congo.
"One thing is certain – tonight's match goes beyond just football. A long-running history of immigration and colonialism entwines the two countries, with conflicts of interests likely to be experienced by players, coaches, and fans alike. 

What's made all the more clear by looking at the diverse background of the Moroccan squad, however, is that varied skills and experiences immigration brings to a country can ultimately drive success and unprecedented change – perhaps a lesson to be learned beyond simply sport."
How is a player's nationality determined?
With over half of its players born in other countries, one might wonder exactly how Morocco's squad came into existence. According to FIFA's eligibility criteria, players must have a genuine link to the national team they intend to play for, which can be constituted as:
Their place of birth
A biological parent being born in the country in question
A biological grandparent being born in the country in question
Naturalised country of residence
The player has had a minimum of five years of education (under the age of 18) in the country in question
French-born players dominate African squads
The game tonight has a deep-rooted history swirling around it. An estimated 1.5 million Moroccan immigrants live in France, the most popular country among the 5-million-strong Moroccan diaspora in Europe.
In fact, Moroccans are estimated to make up nearly 20% of France's immigrant population. Two players for the Moroccan team tonight, Romain Saïss and Sofiane Boufal, were born in France. 
Beyond Morocco, France is the birthplace of a staggering 59 players this World Cup. Just 37% of players born in France are on the French team. Meanwhile, the majority of players born in France are actually representing African countries this year, including: 
Senegal (Edouard Mendy, Kalidou Koulibaly, Youssouf Sabaly, Abdou Diallo, Fode Ballo-Toure, Nampalys Mendy, Pape Gueye, Boulaye Dia, Iliman N'Diaye)
Ghana (Alexander Djiku, Andre Ayew, Elisha Owusu, Jordan Ayew) 
Cameroon (Devis Epassy, Jean-Charles Castelletto, Enzo Ebosse, Christopher Wooh, Olivier Ntcham)
Tunisia (Mouez Hassen, Montassar Talbi, Nader Ghandri, Dylan Bronn, Wajdi Kechrida, Hannibal Mejbri, Aissa Laidouni, Ellyes Skhiri, Wahbi Khazri and Naim Sliti)
Yasmin Purnell
Yasmin Purnell is a Content Writer and Editor for Moneytransfers.com. Yasmin has a wealth of experience writing across a range of topics within the personal finance, student, and business niche. Yasmin joined the team with the one main mission to provide accessible financial, career and business information and advice for all.