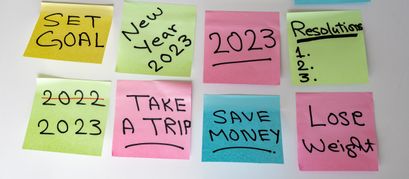 Watching Pounds Not Pennies: UK vows to fight the fat in 2023 despite the cost of living crisis

Mehdi Punjwani
Of those that have made new years resolutions for 2023 in UK, over 50% top priority is to exercise more, according to data collected by MoneyTransfers.com – even with inflation high and the cost of living rising by the day.
It tops the list of resolutions in a poll taken towards the end of 2022 – with losing weight (43%) and improving my diet (43%) taking second and third. This suggests that much of the UK will have an eye on the scales for at least the next few weeks.
However the only other diet/fitness related options on the list come significantly lower down, with only 14% of respondents promising to cut down on drinking, and 6% to quit smoking. The only resolutions to come lower than these were, somewhat concerningly(!), doing more charity work (9%) and raising money for a charity (5%). 
This follows the trend from last year, when 43% of people promised to both exercise more and eat healthier, while 40% said they would lose weight in 2022. 
Finances aren't forgotten
Interestingly, there is some indication that the UK is still feeling some financial strain. After the leading trio of health and fitness last year, the most popular resolution was to spend more time with friends and family (25%) – but this year priorities have now shifted to saving more money (41%). 
Further research shows that the most common methods for cutting back and saving money were spending less on fashion and clothing, grocery shopping and takeaways. 
But while making promises at the start of the year might be easy enough, how do people stick to these resolutions? According to the numbers, 29% of those who set money-related resolutions stuck to them, compared to 24% of fitness resolutions and 23% of health and well-being goals.
Goals by demographics
If we take a closer look at the gender splits on all the options given, men were more likely to make the following resolutions:
Pursuing a career ambition: 25% of men vs 16% of women
Cutting down on alcohol: 19% of men vs 10% of women
Raising money for a charity: 6% of men vs 4% of women
On the flip side, women were more likely to want to:
Save more money: 46% of women vs 34% of men
Decorate or renovate part of their home: 20% of women vs 14% of men
Spend more time with family: 18% of women vs 15% of men
And looking at the age groups of the respondents, the most common resolution chosen by those aged 18-44 and over 55 was doing more exercise, while for those aged 45-54 it was to lose weight.
Analysing the data by region shows that doing more exercise was a more popular option in Scotland than anywhere else, with 65% of Scots picking it – second only to 68% wanting to lose weight. These are the highest percentages of any response in any region across the UK. Incidentally, no one in Wales chose giving up smoking, taking up a new hobby, volunteering or doing more charity work, or spending less time on social media – and no one in the South or the East of England chose raising money for a charity.
For some, new year's resolutions can be a novelty or a way of getting in on the fun – but for others they represent a real opportunity to shift mindset and focus. We mustn't undervalue how important a step it can be for people who want or need to make a change. Over a quarter of people asked said they kept all of their resolutions last year – which isn't THAT bad for a 'novelty'.

Jonathan Merry, CEO of MoneyTransfers.com
Mehdi Punjwani
Mehdi is a writer and editor with over five years of experience in personal finance, writing for brands including MoneySuperMarket, Equifax and The AA. He graduated from Brunel University with a BA and MA, and likes to spend his free time hiking, travelling, and reading.