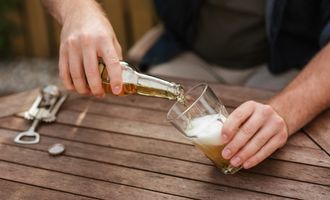 Dry January: Alcoholic Drinks and Their Alternatives Ranked By Cost

Yasmin Purnell
In the UK, an estimated 8.8 million adults pledged to commit to Dry January this year. As a result, an estimated 7.8 million non-alcoholic beers will be sold in January by shops and supermarkets, according to the BBPA. 
However, if one of the root causes of reducing one's alcohol in-take is cost – how much can you really save by swapping out a drink for its non alcoholic counterpart? Here, MoneyTransfers.com has revealed that in many cases, non-alcohol alternatives are on par in terms of price with the very drink they're replacing.
Key findings:
A bottle of gin (£22.50) can actually be found cheaper than a non-alcoholic equivalent (£26)
While supermarket prices often mean non-alcoholic drinks are cheaper than the alcoholic versions, the two are often priced similarly in pubs and restaurants
A pint currently costs £4.12 on average in the UK – but a 330ml bottle of 0% beer is only a fraction cheaper 
Brits may be able to save thousands by ditching booze altogether – but certainly not by replacing alcohol with 0% alternatives
Jonathan Merry, CEO of MoneyTransfers.com, comments:
"We recently revealed that Brits quitting booze altogether could save up to £3,000 a year, so the revelation that anyone who is looking to replace their favourite tipple with a non-alcoholic alternative will be left equally out of pocket as before highlights a glaring lack of support for non-drinkers.

With an increasing number of the younger generation avoiding alcohol due to the rising cost of living, the lack of affordability of non-alcoholic alternatives may be something that needs drastic changes."
16% of Brits drinking more due to cost of living
While the reasoning behind this decision for so many Brits isn't provided, a survey from Alcohol Change UK found that one in six people who drink alcohol had started drinking more to cope with worries surrounding the cost of living crisis, while one in seven have prioritised alcohol over essential items, such as food shopping. 
In contrast, it appears that the younger generation are turning away from Britain's renowned 'pub culture'. Drinkaware recently revealed that 26% of 16 to 24 year olds surveyed were fully sober, with more people in this demographic showing a decline in drinking than any other generation.
What's clear, then, is that a significant portion of those giving up alcohol for the month (or more) are likely doing so in an effort to save money. We've compared the average cost of popular alcoholic drinks with non-alcoholic drinks, to see just how much Brits may be saving.
Non-alcoholic beers on par with a standard pint
A standard pint of lager costs an average of £4.12 in the UK currently – although that price increases significantly in London. One might presume a non-alcoholic beer, without added alcohol duties, costs considerably less.
The reality, however, is much different. Most pubs sell bottled non-alcoholic drinks rather than having it available on tap. Our independent research found the average price of a 330ml non-alcoholic beer to be around £3 – with the total cost difference almost on par with a standard pint (568ml).
To put that into perspective, 57% of adults reportedly drink up to 14 units (6 pints) of beer each week – spending around £24.72. Non-drinkers swapping out those pints for 6 bottles of non-alcoholic beer would save around £6.72, with an estimated spend of £18.
Bigger savings in supermarkets
The real cost-benefits of stopping or reducing one's alcohol consumption can be seen when we compare the standard retail cost of alcoholic and non-alcoholic drinks.
Our independent research found that a 12 pack of 330ml bottles of Peroni Lager costs £16.50. The 0% version of the lager, however, costs just £11 for the same number of bottles – a saving of £5.50.
Likewise, a 750ml bottle of Prosecco costs between £8.50 – £12 from supermarkets, but a non-alcoholic version, such as Noseco, costs just £3. The UK is the largest market for Prosecco, shipping an estimated 131 million bottles per year – so the savings Prosecco-loyalists could make by swapping out their beloved sparkling wine for an alcohol-free alternative could make a huge difference.
Less savings on spirits
The difference (or lack of) in costs for spirits and their non-alcoholic alternatives may be surprising to some. Notorious for being amongst the most expensive alcoholic drinks both in pubs and in supermarkets, a 1 litre bottle of Gordon's Dry London Gin costs around £22.50. However, that's actually cheaper than the £27.30 Seedlips's Garden 108 Non-Alcoholic Spirit (700ml) is currently retailing for.
Yasmin Purnell
Yasmin Purnell is a Content Writer and Editor for Moneytransfers.com. Yasmin has a wealth of experience writing across a range of topics within the personal finance, student, and business niche. Yasmin joined the team with the one main mission to provide accessible financial, career and business information and advice for all.