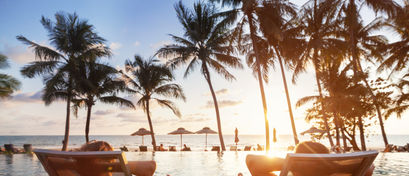 USA ranks as top tee-totaller travel destination as people plot dry January breaks

Mehdi Punjwani
In the results of a recent survey analysed by MoneyTransfers.com, we've found that the USA ranks as the number one choice for tee-totallers travelling abroad. It was followed by the warm and welcoming Turkey, with Italy, Spain and Australia making up a sunny top five.
It should come as no surprise, as the USA is a vast land with a dizzying array of things to do and see – compared to Brits, drinking isn't as big of a thing across the pond. Turkey's high rank is also easily explained, being a beautiful and historic country with a high Muslim population used to enjoying life without alcohol.
Sober staycations
Not everyone has the time or resources to go abroad, especially during the winter, so for those interested in enjoying the best of Britain during dry January, the most popular destination for teetotallers was the capital. London is home to an endless number of attractions, from museums and galleries to famous high streets perfect for a sober holiday.
Cornwall ranks second, with its pristine beaches and iconic seafood it's the polar opposite of London and offers the best of the British seaside. Edinburgh, Manchester and Devon make up the top five, each showcasing uniquely British culture in their own way. 
Travel and tipples: hand in hand?
It seems to be a common experience for travellers to drink while travelling – and many would ask why not? Holidays are the time to let your hair down, after all. While many might enjoy a drink or two while abroad, or even a drink or two at the airport before we've actually gone anywhere, it's not everyone's cup of tea.
One in five holiday makers polled by the survey felt pressured to drink at the airport, with those in Northern Ireland feeling this pressure the most – 42% of Northern Irish respondents admitting to feeling it. while over a quarter of respondents felt the same pressure to drink while on their holiday. Looking at the age of respondents, it's clear that youngsters aged 16-24 felt it the most at over a third – contrasting to those aged over 55 who felt the least pressure. 
It's no secret that people are likely to drink more when they're on holiday, but dry January has historically been a fantastic opportunity for people to pull together and cut down on the alcohol. With freezing weather and high energy costs, maybe we've been missing a trick by not combining dry January with a trip to a warmer country.

MoneyTransfers.com founder Jonathan Merry
Mehdi Punjwani
Mehdi is a writer and editor with over five years of experience in personal finance, writing for brands including MoneySuperMarket, Equifax and The AA. He graduated from Brunel University with a BA and MA, and likes to spend his free time hiking, travelling, and reading.