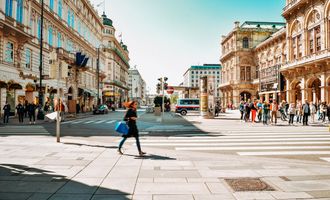 The 10 Best Cities to Live in Europe in 2023

Dunja Radonic
If you're looking for a change of air, Europe has a lot of appealing destinations to offer. We've compiled a list of the best cities to live in in Europe based on the cost of living, safety, and overall living standards.
Let's have a look!
1. Vienna, Austria
This central European metropolis filled with spectacular Baroque buildings was once home to world-renowned minds such as Freud, Mozart, Beethoven, Einstein, Klimt, and so on. Historically, a gathering point for artists and free-thinkers, it maintains this status even today. There are often contemporary art installations throughout the city.
The streets exude the Habsburg royal culture while welcoming people of all backgrounds. Geographically set on a crossroads, here you can come into contact with a variety of ethnicities and traditions, which makes it one of the best places to live in Europe.
Two million people call Vienna their home, yet its crime rate is fascinatingly low. This encourages people to see it as a potential home and a place where they can start a family. Topping the list of the world's most liveable cities, Vienna also has a low pollution rate and a fantastic metro system which most residents rely on.
2. Lisbon, Portugal
Although Lisbon has a metropolitan air about it, it has succeeded in retaining a laid-back Mediterranean style of living, earning its place among the coolest European cities. The city's trajectory from being a port, a trading center, and a tourist haven today shows its ever-changing nature.
Famous for its longevity, it's one of the oldest cities in the Western part of Europe. Its streets show an impressive blend of ancient and modern.
The population is just over half a million people and that's without including visitors. A true testament to how multicultural the city is is the fact that discrimination on any basis is practically non-existent or at least imperceptible.
On the practical side, the low pollution rate and low cost of living make this city an excellent choice for a stable home. What makes it one of the best places in Europe to live is its astonishingly low crime rate—most people feel very safe in Lisbon.
3. Lyon, France
Lyon offers everything France is famous for: a rich history, stunning architecture, and rare delicacies. If you enjoy walks and sightseeing, Lyon is the perfect place for you as its average temperature never exceeds 30° C.
Parts of the city are listed as UNESCO World Heritage. One of these sites is the magnificent Fourvière Hill, from the top of which you are able to get a striking panorama of the entire city. The breathtaking view shows the quaint architecture of Lyon and the flow of its two rivers the Saône and the Rhône.
The vibrant European city is described as being overall safe, and notably safer during the day. It makes sense that a certain crime rate has to be present since the population exceeds 500,000 people.
That said, the high living costs are a sticking point. This makes it difficult for some people to decide to permanently move there.
4. Nuremberg, Germany
This picturesque medieval center is well-known for being a homeland for artists, and for enduring the devastating consequences of World War II. The city is bound to captivate you with its authentic gothic aesthetic and welcoming nature.
A lot of visitors decide to stay because the city offers a high-quality life for newcomers, making Nuremberg one of the best cities in Europe. Its high purchasing power is well-balanced with the local income, so you would be able to build a steady and comfortable life in Nuremberg if you decide to.
However, many have found it quite difficult to become a homeowner in Nuremberg due to its steep property prices. Be that as it may, if you're looking for a change of scenery, this city might be an apt choice for you.
5. Bern, Switzerland
Switzerland is renowned for maintaining one of the best high-quality lifestyles in this neck of the woods. Thus, Bern has one of the highest standards of living in this group.
The city's architecture is so well-preserved that it gives you a glimpse into its medieval past. The gorgeous old town, the centuries-old fountains, and the crystal clear Aare river are all reminders of why this city is one of the UNESCO World Heritage sites.
Bern has it all — from a well-organized healthcare system and more than sufficient salaries to a low crime rate and limited pollution. The streets are safe and clean, and public transport is very well-organized. This picture-perfect gem is one of the best European cities to live in.
6. Dresden, Germany
A lot of Dresden was destroyed during World War II but due to the city's reconstruction and continuous growth, its beauty has prevailed. Dresden is all the more exceptional for its incredibly high life standard.
Another site safe kept by UNESCO is the Elbe valley, located in the heart of Dresden. The Elbe valley walks you through five centuries of history with its parks, meadows, and monuments. It also has a laid-back, rich cultural scene, so for an open-minded young person, it's maybe the best place to live in Europe.
Dresden is safe and clean, and its pollution index is low. Its healthcare and traffic system are impeccably organized. Apart from that, the city offers a solid balance of income and purchasing power. Therefore, as a resident, you will be able to live comfortably and peruse the property if you wish to remain there for longer.
7. Prague, The Czech Republic
Reminiscent of a fairytale, this charming city has something for everyone, from historical tours and stories to authentic breweries and bustling nightlife, being one of the coolest cities in Europe.
The 9th-century Prague castle, the astronomical clock installed in the 15th century, and the old Jewish ghetto named Josefov are just some of the astonishing sites of the city..
Prague is praised for being a melting pot, having an ideal climate, excellent educational opportunities, and a relatively affordable cost of living. Moreover, its private and public healthcare system is highly-functional and reliable.
However, one problem with life in Prague is its steep prices for rent. The income-to-rent ratio is imbalanced and poses a problem for newcomers. Most people have trouble finding housing even on the outskirts of the city, let alone the city center.
8. The Hague, The Netherlands
This city prides itself on being the European center of peace and justice, as its the home of the International Court of Justice and the International Criminal Court. The Hague is the ideal place for those who enjoy art history, politics, and the aesthetic of gothic opulence.
The Hague is proof that the culture of Western Europe is alive and well. This historic landmark is home to the Dutch royal family, the seat of the Dutch government, and a hot spot for countless classical art museums.
Its infrastructure is impeccable, meaning that you can always rely on any aspect of public or civil services. Healthcare, education, safety, traffic, everything is organized at an admirable level.
A potential downside would be the cost of living. However, if you are a resident and earn a steady income, you will be able to get by and save up.
9. Valencia, Spain
Voted as the best place to live in Europe for expats in 2022, Valencia is a coastal paradise set in east Spain that dates back to 138 BC. Because it had been ruled by many — the Romans, the Moors, the Visigoths — today, it encompasses a mixture of architectural styles, different cuisines, and upholds a multiethnic community.
As a model Mediterranean city, it breathes a cool and hip lifestyle, ideal for people in their 20s and 30s. It maintains its status as one of Spain's industrial centers while continuing its expansion.
Valencia's overall quality of life is impressive. The local income is adequate, the economy, education, and healthcare are satisfactory, while the cheery disposition of Valencians is irreplaceable.
10. Cardiff, England
Cardiff is a gorgeous example of Welsh culture. Cardiff Castle, Bute Park, and the National Welsh Museum are just some of the highlights of the city.
The well-kept and safe city offers people a chance to settle down for good. Its temperatures typically rarely go below 5° C or above 20° C and for an average-sized city, its pollution levels are fairly low.
It ranks high on the environmental scale as its one of the greenest cities in the UK, having over three dozen green spaces, including parks, gardens, forests, bodies of water, and so on. In addition, most things are within walking distance. All this makes Cardiff one of the best places to live in Europe for English speakers.
The cost of living and purchasing power are relatively decent but could stand to see some improvement. This might be the only disadvantage of living in Cardiff.
The Bottom Line
If you're looking to switch gears and move out of your comfort zone, make sure it's in a place where the grass is truly greener. Some of the best places to live in Europe are affordable, safe, clean, and, most importantly, welcoming to expats.
FAQ
Where is the cheapest place to live in Europe?
What is the best city to live in and work in Europe?
What are the most livable cities in Europe?
Dunja Radonic
Dunja is an English Literature graduate with years of experience as a writer and translator within the financial sector. She loves diving into as many reports and numbers —especially about topics like personal finance that still need some translating to the public. When she's not working, you'll find her running wild with her pack of dogs, playing board games, or bingeing on pop science videos.