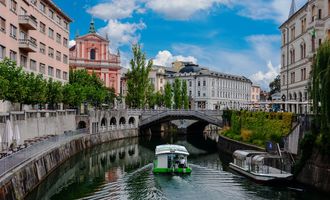 The Best Places to Visit in Europe in 2023

Hristina Nikolovska
Whether you're traveling in the summer or winter, Europe is always a good idea. From must see-places to travel-sustainable destinations, the 'Old World' is not only the home of some of the most developed countries, but it's also a paradise for foodies, a treat for museum and art lovers, and an unforgettable experience for outdoor enthusiasts.
But out of 44 countries and a total of 800 cities, choosing the best places to visit in Europe can be a real challenge. For that reason, we've listed five destinations you can choose from and some tips on how to enjoy them properly.
Ljubljana, Slovenia
For some, Ljubljana is a vibrant city with rich cultural life and history dating back to the Roman ages when it was known as Emona. For others, it's a City of Dragons, stories and one that will make you believe in fairy tales all over again.
What makes Ljubljana such a charming city, though, is that it has all the attributes of a capital without the usual crowds, traffic jams, and noise. Therefore, it shouldn't come as a surprise that it ranked at the top of the list of best European cities to visit in 2022.
The city was also voted one of Europe's greenest, with a total of 542 m2 of public green areas per inhabitant, and has so far been included eight times on the Sustainable Destination Top 100 list. As of 2015, Ljubljana is also part of UNESCO's Creative City Network, with an average of 850 books published each year.
If you're interested in exploring the city of Ljubljana, some of the best picks for travelers are:
The Ljubljanica river or the Green Queen with the famous Triple Bridge and Dragon Bridge;

Tivoli park;

Ljubljana Old Town;

The architectural creations of Jože Plečnik, a selection of which is protected by UNESCO;

Castle Hill, with its recently revitalized vineyard.
But greenery, history, and creative scenery is not the only thing that makes it one of the best European travel destinations. To properly enjoy the city, you must definitely try some of its traditional dishes like the Kranjska klobasa, idrijski žlikrofi, ajdovi žganci, potica, and of course, prekmurska gibanica, to complete your experience with dessert.
Paris, France
No trip to Europe can ever be complete without Paris – the city that resonates with romance, art, food, and fashion.
Whether you choose it for romantic reasons, because you're passionate about seeing some of Louvre's artwork, or simply wish to marvel at the sight of the Eiffel Tower, Paris has plenty to offer.
Plus, it's been one of the top European destinations for centuries and, as of recently ranked the best city in the world for accessible travel. The bonus is that it will host the 2024 Olympics.
Regarding things to do and attractions in Paris, here's a list of musts:
Champs-Elysées;

Sainte-Chapelle and Notre Dame in Île de la Cité;

Pont Neuf, the oldest bridge connecting the Right Bank with Île de la Cité;

The Conciergerie and the Place de la Concorde to see where Marie Antoinette was beheaded;

Le Marais neighborhood for some great food;

Montmartre;

Musee d'Orsay, if you're a fan of Impressionist art;

Le Mur des Je T'aime;

Moulin Rouge;

A cruise on the Seine River.
If you have time to spare, you can also take a trip to the Palace of Versailles.
Also, don't forget that France is the best country to visit in Europe for wine and food lovers. French cuisine is not only ranked 9th best in the world, but it's also widely known for its finesse and flavor, which means you have to make time for some fine dining.
Whether you opt for the iconic ratatouille, bœuf bourguignon, coq au vin, or soupe à l'oignon, make sure you complement it with some fine French wine.
Braga, Portugal
Portugal's third largest city and the crowned jewel of 2021's list of best places to travel in Europe, captivates travelers with its chill vibe, amazing architecture, and romantic ambiance. Moreover, Braga was ranked fifth in the category of small cities of the future for 2022/23 as a jackpot for foreign investors looking for a location that's both modern and innovative.
Known as the City of Archbishops, with more than 2,000 years of history, Braga is packed with religious manifestations, churches, and shrines. And when you see Braga's Cathedral, the Church of Bom Jesus, and the Sanctuary of Sameiro, you will understand why the city is called Portuguese Rome.
But what makes Braga one of the most amazing places to visit in Europe is that it's constantly reinventing itself. It's both modern and dynamic, with many cultural events, fantastic gastronomy, and above all, youthful.
The latest data shows 45% of Braga's population is under 30. Plus, it's a city that is committed to sustainable tourism and is part of the network of cities with zero CO2 emissions. So if you do find yourself tempted to visit, here's a list of must-see places in Braga:
The Braga Cathedral;

Bom Jesus Sanctuary;

Museum of Sacred Art;

Santa Barbara Garden;

Arcada;

Arch of the New Gate.
Also, if you're up for some outdoor activities, we strongly recommend you visit the Peneda-Gerês National Park, located just 40 minutes northeast of Braga.
And then there's the food and the famous Minho region wines. Some of Braga's favorites are the bacalhau à Braga, cabrito assado à moda de Braga, and papas de sarrabulho. Whichever you choose, Portugal's rich gastronomic heritage will not leave you hungry.
Marbella, Spain
Spain is one of the best countries to visit in Europe and Marbella is top holiday destination for those looking to enjoy the Andalusian warmth, the Mediterranean Sea, or the breathtaking Sierra Blanca Mountains. A bonus for outdoor enthusiasts is that you'll be very close to Málaga and the Strait of Gibraltar.
In addition to being the second-best destination in Europe to visit in 2022, Marabella is special because of the luxurious residential area known as the Golden Mile, and the gorgeous holiday villas situated in the Yellow Hills.
Moreover, Marabella is historically known as one of the best vacation spots in Europe and a retreat for golf lovers, as it has the highest number of golf courses in Spain.
And, if enjoying the Spanish sun is on your list for this year's holidays, here are a few things you should explore in Marabella:
Alameda Park;

Marbella old town;

Avenida del Mar with its bronze statues designed by Salvador Dalí;

Iglesia de la Encarnación;

Museum of Spanish Contemporary Engraving;

Golf Valley;

Vega del mar Basilica;

Bonsai Museum.
Also, if you're ready to take a four-hour walk, you must definitely visit La Concha, from where you can see way beyond Marabella to the Atlas Mountains in Morocco.
Gastronomy is another aspect of Marbella's allure and why it's one of the best places to go in Europe. From three-star Michelin restaurants and smaller eateries serving traditional dishes such as paella, tapas, and boquerones, Marabella offers plenty to meet every appetite. After all, Spanish cuisine is the third best in the world with a score of 4.59 out of 5.
Athens, Greece
As the birthplace of democracy and the home of Aristotle and the magnificent Acropolis, Athens is much more than a city – it's the beating heart of one of the oldest and most vibrant cultures in the world.
Whether you're looking for an urban adventure, museum exploration, or seaside relaxation, the Greek capital delivers and exceeds expectations. And the best part is that it not only scores high on lists of top places to visit in Europe, but it's also the cheapest European location for a city break.
Another great thing about Athens is that art is not strictly limited to museums. The Parthenon itself is out in the open for everyone to see. The street art and murals of Athens color the city's white buildings and guide tourists from Acropolis towards Syntagma Square, where if you make it on time, you'll enjoy the guard change ceremony.
Other things to do and see in Athens include:
The Acropolis Museum;

The Ancient Agora and the Temple of Hephaestus;

The Temple of Olympian Zeus;

The National Garden;

Mount Lycabettus;

The Panathenaic Stadium;

The Piraeus Port.
Moreover, the Athenian riviera is also one of the greatest vacation spots in Europe. The coastline's green-blue waters, organized beaches, and rocky coves are teeming with resorts, especially the area around Glyfada and Vouliagmeni Lake.
Another must-see attraction is the Temple of Poseidon, located on Attica's southernmost point. It's an hour's drive from Athens but worth every second.
As far as Greek food goes – it literally writes volumes. Seafood or gyros, the traditional Greek salad, mousakas, saganaki, hortopita, païdakia, bougatsa, or any other dessert, everything tastes better in Greece.
And considering the Mediterranean diet has been winning the gold medal for six years in a row, and Greek cuisine currently ranks second in the world, the country may well be a paradise for foodies.
The Verdict
Choosing which is the best place to visit in Europe is close to impossible. Europe's riches expand beyond cultures, customs, food, and languages. It's a continent that's packed with mountains, lakes, amazing coastlines, museums, and myths, and as such offers a little bit of something for everyone. This guide includes recommendations based on the most recent data and travelers' preferences. Hopefully, it will point you in the right direction for your next travel adventure.
Hristina Nikolovska
An internship in a digital marketing agency during her freshman year of university got Tina into content. A decade later, she's utilizing her educational background in English and knack for research to craft website content on crypto and ensure readers are fully informed. When she's not investigating the crypto market and expanding her knowledge, you'll find her randomly roaming cities and sunny coasts all over the world.