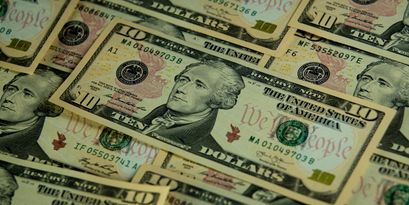 US dollar sinks to 2-year low as US coronavirus cases surge

Crispus Nyaga
The US dollar declined to the lowest level since June 2018 as the rising number of coronavirus cases in the US worried investors. The dollar index, which measures the currency's strength against a basket of currencies, declined by 0.80% to 93.68.
US dollar falls against peer currencies
The US dollar dropped by 0.90% against the euro, 1% against the Swedish krone, 0.75% against the British pound, and 0.90% against the Japanese yen. It also declined sharply against other emerging market currencies like the South African rand and the Mexican peso. Subsequently, the weaker US dollar played a role as gold price rose to an all-time high.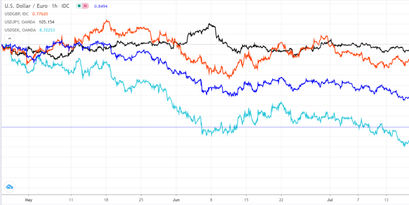 Analysts believe that the weak US dollar is mostly because of the divergence between the US and other countries. While the number of coronavirus cases in most European and Asia-Pacific countries has been falling, the US has continued to report record numbers. By Sunday, the country had recorded more than 4 million deaths and more than 130k deaths.
As a result, the concern is that the rest of the world will recover and leave the US behind. Indeed, recent economic numbers from the rest of the world have been fairly strong. For example, China said that its economy expanded by more than 5% in the second quarter, becoming the first major economy to return to growth. Similarly, recent numbers from Europe have also been great.
To be fair, economic numbers from the US have been positive. The economy created more than 7.3 million jobs in May and June and retail sales are rising. Also, the country has made important strides in developing a coronavirus vaccine. Still, the challenge is that the rising number of cases is expected to temper this progress.
Fed interest rate decision eyed
Will the US dollar weakness persist? The answer could come on Wednesday when the Federal Reserve releases its interest rate decision. Analysts polled by Reuters expect that the bank will leave interest rates unchanged at the current range of between 0% and 0.25%.
Still, investors will be waiting for any change in language in the Fed statement. For example, since economic conditions have changed materially, the bank could signal its willingness to do more to support the economy.
The EUR/USD pair is trading at 1.1775 while the GBP/USD pair is trading at 1.2885. The USD/JPY and USD/CHF are trading at 105.16 and 0.9191, respectively.
Are you in the process of sending money to another country? At MoneyTransfers, we can help you save money by showing you the transaction costs charged by hundreds of companies.
Crispus Nyaga
Crispus is a financial analyst with over 9 years in the industry. He covers the stock market, forex, equities, and commodities for some of the leading brands. He is also a passionate trader who operates his family account. Crispus lives in Nairobi with his wife and son.