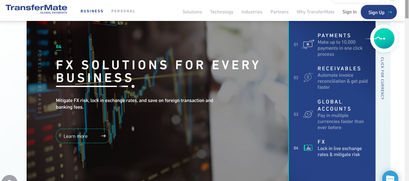 TransferMate expands its global footprint with a new Mexico license

Crispus Nyaga
TransferMate has received a new payment license by the National Banking and Securities Commission in Mexico. The license will help the company expand its business to one of the fastest-growing countries in terms of business-to-business payments.
TransferMate receives payment license in Mexico
TransferMate is a fast-growing Ireland-headquartered fintech company that provides business-to-business payment services. Started in 2009, the company has received more than €51 million from investors at a valuation of more than €350 million. ING Bank, one of the biggest European banks, is one of the biggest shareholders in the company.
The company helps businesses that operate internationally to move money faster and cheaper by cutting intermediaries. It charges no wire transfer fees and companies can easily track their money after making the transfer.
As part of its global expansion, TransferMate has received licenses in several countries. In 2019, it received licenses in Hong Kong, Dubai, and Singapore. It also has licenses in countries like Canada, Australia, United States, and the UK. In a statement, Sinead Fitzmaurice, the CEO of the firm, said:
"This move is another major progression in our strategic mission to provide customers and partners with a regulated payments technology infrastructure that is not only able to bypass interbank rails but also ensures end-to-end control over the corridor, resulting in lower cost, higher speed and greater reconcilement benefits for our customers."
Mexico, an important market for money transfer companies
Mexico is an important market for money transfer companies. For one, the country is part of the revamped NAFTA, also known as the United States, Mexico, and Canada Agreement (USMCA). This is a deal that removes tariffs and promotes trade between the three countries.
Indeed, Mexico is one of the biggest America's trading partners. In 2019, the two countries did trade worth more than $671 billion. Also, most American companies like General Motors, Ford, JP Morgan, and Coca-Cola have a strong presence in the country.
Meanwhile, remittances to Mexico are growing amid the pandemic. In the first half of the year, remittances to Mexico rose to more than $40 billion, a record. As a result, many money transfer firms have been expanding their businesses to the country. Some of the most prominent names with a substantial share in Mexico are TransferWise and WorldRemit.
Are you in the process of sending money to another country? At MoneyTransfers, we can help you save money by showing you the transaction costs charged by hundreds of companies.
Crispus Nyaga
Crispus is a financial analyst with over 9 years in the industry. He covers the stock market, forex, equities, and commodities for some of the leading brands. He is also a passionate trader who operates his family account. Crispus lives in Nairobi with his wife and son.