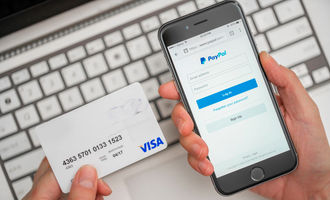 PayPal plans to acquire crypto firms as it starts accepting Bitcoin

Crispus Nyaga
In a recent announcement, PayPal has indicated that its customers can now deposit or spend cryptocurrencies such as Bitcoin via its online platform.
PayPal accepts Bitcoin and other cryptocurrencies
On Wednesday, PayPal made an announcement indicating that its customers can now spend or deposit major cryptocurrencies such as Bitcoin on its digital platform. The service is available to all of its users worldwide. The customers will be able to shop with the cryptocurrencies at any of the 26 million businesses on PayPal's network.
In addition to Bitcoin, PayPal has also adopted Litecoin, Ethereum, and Bitcoin Cash in the first phase. The service will be available in the United States within a few weeks from now. As for the other parts of the world, and its Venmo app, the firm will launch it early next year. PayPal intends to work with Paxos Trust Company, a US-based cryptocurrency provider, in the delivery of the service.
After PayPal's announcement, Bitcoin reached $12,800. The cryptocurrency's price had risen by over $1,000 in 24 hours. Besides, this was its highest price point since July 2019.
While speaking about PayPal's move in the crypto world, the company's president, Dan Schulman said, "We are working with central bank and thinking of all forms of digital currencies and how PayPal can play a role."
PayPal's interests in the cryptocurrency industry come to reality
PayPal's interests in the cryptocurrency space have been in existence for a while. It was one of the 28 companies that formed The Libra Association as part of Facebook's Libra cryptocurrency project in June 2019. However, a few months later, PayPal exited the alliance.
Ahead of its Q2'20, the firm reiterated its interest in the crypto industry. In a letter to the European Commission (EC), PayPal stated that it is "continuously monitoring and evaluating global developments on the crypto and block chain/distributed edger space."
PayPal's acceptance of Bitcoin and other cryptocurrencies seems to be a stride towards its goal of profiting from the popularity of virtual currencies. Visa and Mastercard are also keen on leveraging on the growth of the crypto industry. Besides, MoneyGram has entered into an alliance with Ripple to facilitate international remittances via its network. 
Meanwhile, according to Bloomberg, the company is considering acquiring several crypto companies, including BitGo.
Final Thoughts
PayPal has joined the growing list of large US firms that allow their customers to use cryptocurrencies on their platforms. Robinhood Markets Inc. and Square Inc are some of the other companies that accept crypto. The trend is likely to propel bitcoin and other cryptocurrencies' standing as viable payment options.
Are you in the process of sending money to another country? At MoneyTransfers, we can help you save money by showing you the transaction costs charged by hundreds of companies.
Crispus Nyaga
Crispus is a financial analyst with over 9 years in the industry. He covers the stock market, forex, equities, and commodities for some of the leading brands. He is also a passionate trader who operates his family account. Crispus lives in Nairobi with his wife and son.