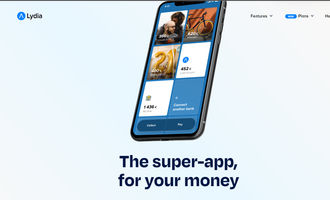 Lydia scoops $86 million to fund its money super app

Crispus Nyaga
Lydia, a fast-growing European super-app, has raised $86 million to accelerate its growth. The new funding brings the firm's total funding to $159 million. 
Lydia scoops $86 million
Lydia is a European fintech start-up that aims to simplify personal finances. The company has developed an app that allows people to send and receive money, save, borrow, pay, and donate money. The idea is to consolidate everything relating to finances in one app. To a large extent, the firm is similar to Venmo, the popular company owned by PayPal. 
Started in 2013, the France-headquartered company has become one of the fastest-growing companies in Europe. It has gained millions of users from most European countries who love its simplicity and its checking account. The app also allows you to create several checking accounts based on usage. 
The new funding round comes from some of the existing investors in the company, including Accel Partners, Founders Fund, and Tencent. In a statement, Amit Jhawar, from Accel said:
"Lydia has the largest P2P network in Europe outside of PayPal and has the potential to grow all across Europe with a mobile-first, customer-focused solution. This will bring demand for incremental consumer financial products and high merchant interest to accept the payment,"
A good time for fintech firms
It is a good time for fintech companies in Europe, Asia-Pacific, and North America. Yesterday we wrote that WorldRemit was preparing to go public. We have also written about other fundraisings from companies like Transferwise and TransferGo, among others. 
This growing trend is inspired by the success of other popular fintech startups like Square and PayPal. The two firms have grown rapidly to receive valuations of more than $80 billion and $225 billion, respectively. TransferWise itself is now worth more than $5 billion while Klarna is worth more than $10.65 billion.
Crispus Nyaga
Crispus is a financial analyst with over 9 years in the industry. He covers the stock market, forex, equities, and commodities for some of the leading brands. He is also a passionate trader who operates his family account. Crispus lives in Nairobi with his wife and son.