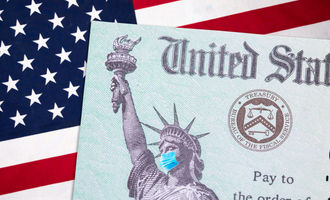 Remittances set to soar as US Treasury wires the $1,400 stimulus checks

Crispus Nyaga
Remittances are set to continue rising as the US Treasury Department continues to distribute the $1,400 stimulus checks. 
$1,400 stimulus checks
The House of Representatives voted for the $1,9 trillion stimulus package last week. President Joe Biden then swiftly signed the bill into law, pushing the Treasury to start wiring the checks.
This could lead to more remittances from the United States as many of the recipients send funds to their loved ones overseas.
Most Americans making less than $75,000 per year are receiving a $1,400 check. According to some calculations, some American families will receive close to $10,000. This is notable since most immigrants in the US make less than $75,000 per year, according to the Bureau of Labour Statistics (BLS).
In addition to the instant $1,400 stimulus checks, the bill also provides more funding towards unemployment insurance. This means that anyone eligible for unemployment insurance will receive additional funds every week until September. 
The new stimulus comes at a time when the American economy is on a recovery path. According to BLS, the unemployment rate has dropped to about 6.1% from last year's high of near 15%. In its interest rate decision this week, the Fed predicted that the unemployment rate will fall to 4.2% later this year. It also expects the economy to rebound by 6.5% this year.
Remittances already rising
Money flowing to developing and emerging markets was already on an upward trend before the new stimulus package. According to the Mexican Central Bank, remittances to the country increased by 26% to $3.3 billion in February. This was in part because of the $900 billion stimulus passed in January. In total, the country received more than $41 billion in remittances last year.
The same trend is happening in other emerging markets like India, Pakistan, and the Philippines. According to the State Bank of Pakistan, remittances increased to $2.26 billion in February, a 24% year-on-year growth. 
Crispus Nyaga
Crispus is a financial analyst with over 9 years in the industry. He covers the stock market, forex, equities, and commodities for some of the leading brands. He is also a passionate trader who operates his family account. Crispus lives in Nairobi with his wife and son.