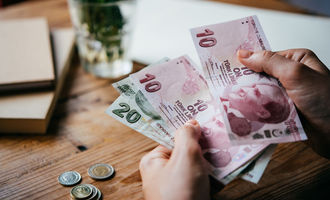 Turkish lira slumps to a record low as odds of rate cuts rise

Crispus Nyaga
The Turkish lira dropped to a record low against the US dollar after the country's president asked the Central Bank to lower interest rates. The currency dropped to 8.8153 against the US dollar and to 12.4236 against the British pound.
Turkish lira slumps
The Turkish lira has emerged as one of the worst-performing currencies in the world this year. The currency has dropped by more than 25% against the US dollar since March this year. 
The decline happened after the country's president fired a highly-respected Central Bank governor in March. After being appointed to become governor in November, Naci Agbal managed to bring confidence in the currency by implementing a series of interest rate hikes. This pushed the currency up by more than 20%.
In March, President Erdogan announced that he was replacing Agbal with a relatively little-known Sahap Kavliocglu, who had advocated for low-interest rates to tame inflation. This is an unconventional view since historically, central banks usually hike interest rates to prevent high inflation.
The Turkish lira decline accelerated on Thursday after data showed that consumer prices retreated in May. According to the statistics agency, the headline consumer price index (CPI) declined from 17.14% in April to 16.59% in May. In the same period, the producer price index (PPI) rose to 38.33%. Therefore, the weak inflation could give the central bank cover to slash interest rates.
Impacts on remittances
The plunging Turkish lira has already had an impact on remittances. For one, Turkish residents are receiving more liras when they receive money from abroad. 
For example, if you send $1,000 to a person in the country, they will receive 8,675 liras. In March, the recipient would have received about 6,900 liras. In 2007, the same amount was 1,515 liras. While they are receiving more money, in reality, the funds are buying fewer items since their prices has surged. 
Crispus Nyaga
Crispus is a financial analyst with over 9 years in the industry. He covers the stock market, forex, equities, and commodities for some of the leading brands. He is also a passionate trader who operates his family account. Crispus lives in Nairobi with his wife and son.