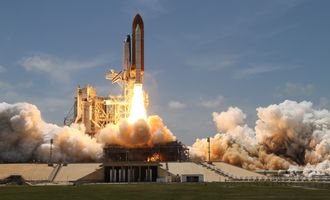 Fly me to the moon: How much does a ticket into space cost?

MoneyTransfers News Desk
The age of space tourism has arrived. 
At least, that's what several companies that have poured billions into the industry are counting on. There have been space tourists before – the first was millionaire American businessman Dennis Tito, founder of investment firm Wilshire Associates, who paid $20 million to travel to the International Space Station with a Russian crew in 2001. But now, we're about to see a new wave of projects take off.
On July 11th, Richard Branson travelled 85km high in a rocket plane to reach the "edge of space" (where 'space' technically begins is defined differently by agencies, which become a point of contention among those who argue it must pass the Fédération Aéronautique Internationale definition of 100km to count as space). Branson travelled on VSS Unity, which launched from mothership VMS Eve, named after his own mother. 
The company 70-year-old Branson co-founded in 2004, Virgin Galactic, has an airport-style lounge ready and waiting in the New Mexico desert to take passengers onto spaceships for 90-minute trips, with a few minutes spent in low-orbit where passengers will experience weightlessness. The company hopes to begin doing so in 2022. 
Meanwhile, Jeff Bezos' company Blue Origin is due to make its first manned trip into space on July 20th, with Bezos, his brother Mark and two other passengers on board. In future, Blue Origin's rocket will take up to six passengers on suborbital flights to look out of six observation windows and – gulp – it will fly autonomously. 
Elon Musk's SpaceX, which already works with NASA, plans to run trips into the earth's orbit, to the International Space Station, and even to the moon. It has also promoted its plan for superfast point-to-point travel using spaceflight technology, with a journey like New York to Shanghai done in 40 minutes. 
Glavkosmos, a subsidiary of Russian space agency Roscosmos, has its own plans to sell tickets into space. Its CEO has said Russia has "no intention of ceding the space tourism market to the US."
And it probably won't shock you to learn that China has a growing private space industry – with 78 commercial space companies reportedly in operation in 2019 – that also wants to be a competitor.
Ticket to ride
Among the first batch of new space tourists will include people who've paid anywhere from $200,000 to $55 million, and a few who've paid nothing at all (see infographic below). 
But a lot is still unknown about how much tickets will eventually cost. Virgin Galactic tickets may be well above a quarter of a million dollars initially, though the company says it wants to bring that down to $40,000. That figure may prove unrealistic if demand is significantly higher than supply. 
Both Blue Origin and SpaceX have remained tight-lipped about how much they think they will charge 'normal people' (AKA non-billionaires) for a seat on one of their rockets. Glavkosmos's pricing is by enquiry only. 
"Whilst sub-orbital space travel is beyond the reach of 99.9% of people, Richard Branson's trip marked a new chapter," said David Doughty, director of space travel agency (yes, you read that right) Rocket Breaks. 
Doughty's company is preparing to serve a "new travel industry niche," with agents from the luxury travel sector who usually cater for ultra high-net-worth individuals. 
Doughty told MoneyTransfers.com he expects sub-orbital trips to cost around £350,000, and orbital missions to cost up to £35 million.  
José Mariano López-Urdiales, founder and CEO of zero-emission space logistics company Zero 2 Infinity, had a similar prediction. 
"If the past is indeed prologue, the price will go up, not down, in the short term," López-Urdiales told MoneyTransfers.com. 
"Dennis Tito's flight to Space in 2001 is considered the start of space tourism. Booking such a flight, on the Soyuz, is now three times more expensive than the $20 million he paid. The increased buzz about the possibilities just increases the demand, but the supply of vehicles is very, very limited."
"Until a large fleet of solutions is available, we'll see the prices rise. Those vehicles will be of many different types, missile-type rockets, rocketplanes, and also Near Space balloons. Prices may come down, below $100k, in about eight years, which is a realistic time for a large enough fleet to be in place." 
López-Urdiales clarified that this only applies to sub-orbital trips – "Orbital will still be many tens of millions of euros, for over 10 years," he said. 
"The good news is that the view is just as good in Suborbital as it is in Orbital," he added. "Once you are above 30 km the sky is black and the Earth blue and curved."
Either way, if you want to channel your inner Neil Armstrong, you'd better get saving. 
MoneyTransfers News Desk
Money transfers, foreign exchange, remittance and currency research and insights from our newsdesk team.