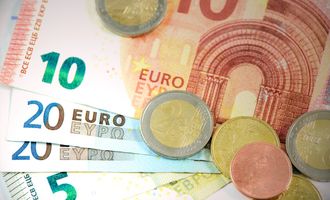 Euro slips to multi-month low as ECB divergence with Fed widens

Crispus Nyaga
The euro slipped to its lowest level in more than a year as the market reflected on the rising number of Covid-19 cases in Europe. The currency dropped to 1.1300 against the US dollar and to 83 cents against the British pound.
Euro under pressure
The euro has tumbled by almost 8% against the US dollar this year. The gains have accelerated this month as investors price in more divergence between Europe and the United States. 
Recent data from the US paint a picture of an economy that is doing relatively well. The labour market has tightened as evidenced by the relatively low unemployment rate. Similarly, retail sales and inflation have all risen in the past few months.
Europe's case has been different. While some EU member states like Germany and France have staged a strong recovery, other smaller ones have struggled. 
Therefore, analysts believe that there will be a divergence between the ECB and the Federal Reserve. Recently, the Fed has signalled that it will move to tighten its conditions. Indeed, it has already started tapering its asset purchases by about $15 billion.
On the other hand, in Europe, the number of Covid cases is rising. Indeed, Austria announced that it will start a nationwide lockdown next week. And Germany has not ruled out new lockdowns to curb the spread of the virus. 
Therefore, analysts believe that the ECB will be patient before tightening. In a statement on Friday, Christine Lagarde said that it will be unlikely that the ECB will hike interest rates in 2022.
Divergence with the UK
The euro has also slumped against the British pound since the UK economy has made a strong rebound in the past few months.
Data published earlier this week showed that the UK unemployment rate is sliding. It fell to a pandemic-era low of 4.4%. Further data showed that inflation rose to a decade-high of 4.2%. And on Friday, numbers showed that the retail sector has been relatively vibrant. 
Therefore, there is a potential that a divergence between the ECB and the Bank of England will be there in the near term.
Crispus Nyaga
Crispus is a financial analyst with over 9 years in the industry. He covers the stock market, forex, equities, and commodities for some of the leading brands. He is also a passionate trader who operates his family account. Crispus lives in Nairobi with his wife and son.