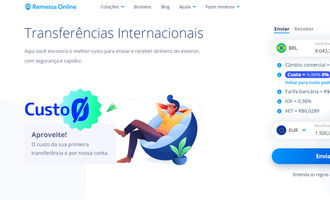 Remessa Online acquired by Ebanx in a $229 million deal

Crispus Nyaga
Remessa Online, a fast-growing money transfer company based in Brazil, was acquired this week as consolidation in the industry continues.
Ebanx acquires Remessa Online
The money transfer industry is seeing significant changes and growth around the world. As a result, the industry is seeing significant partnerships and consolidation as companies scale their solutions.
The latest deal comes from Brazil. On Thursday, Ebanx announced that it would acquire Remessa Online in a $229 million deal.
Ebanx believes that the new acquisition will help to complement its services as it scales its business in the region.
The acquisition comes a few months after Ebanx acquired Juno, a company that transacts more than 200k payments every day.
The transaction comes at a time when Remessa Online has been growing its business after it raised more than $23 million from venture capital firms. 
Growth for Ebanx
Ebanx has grown from a relatively small company to one of the biggest firms in Brazil. The company offers a wide range of services like payment processing, fraud protection, merchant services, and APIs. 
It is backed by well-known companies like Advent International, which is one of the biggest private equity companies in the world. It has already raised more than $460 million from investors. It is even considering going public in the United States.
In the past few years, several Brazilian fintech companies have gone public in the United States. The most recent one was Nubank, which went public last week. StoneCo is another popular Brazilian fintech firm.
Still, Ebanx will face significant challenges with Remessa Online considering that its business is facing significant competition from the likes of Wise and WorldRemit.
Crispus Nyaga
Crispus is a financial analyst with over 9 years in the industry. He covers the stock market, forex, equities, and commodities for some of the leading brands. He is also a passionate trader who operates his family account. Crispus lives in Nairobi with his wife and son.