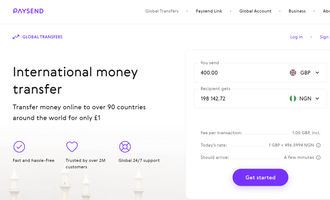 Paysend expands in Brazil by partnering with Banco Rendimento

Crispus Nyaga
Paysend, the fast-growing venture-funded, money transfer company, is expanding its business in South America. 
Paysend expands to Brazil
The money transfer industry is getting more competitive. As a result, many companies are trying to differentiate their service offerings in many ways. One of them is to expand to some of the leading countries. 
This week, Paysend announced that it would expand to Brazil by incorporating Pix. Pix is a real-time settlement platform offered by the Brazilian central bank. It has partnered with Banco Rendimento, a leading bank in the country.
The expansion means that Paysend's customers in Brazil will be able to send money locally and internationally at a faster rate and lower costs. 
Entering the Pix network is important because of its dominant role in Brazil. Data by the central bank shows that its volume is equivalent to the country's 80% of debit and credit card transactions. It handles over 30,000 transactions per minute. 
An important market
Brazil is an important market for all companies in the money transfer industry. For one, it has a large population of over 212 million people and a fast-growing middle class. Brazil also has a large population abroad, which is the target market of money transfer companies. 
Paysend has been in a strong growth path in the past few months. In January 2021, the company confirmed that it had 3 million customers. By November, the number of active users surged to over 5 million.
To achieve that, Paysend has raised millions of dollars from investors. According to Crunchbase, it has raised over $157 million and is valued at over $700 million.
Crispus Nyaga
Crispus is a financial analyst with over 9 years in the industry. He covers the stock market, forex, equities, and commodities for some of the leading brands. He is also a passionate trader who operates his family account. Crispus lives in Nairobi with his wife and son.