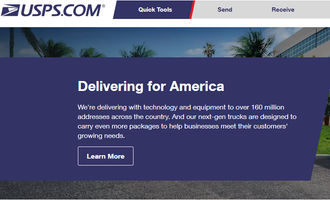 USPS domain tops government's most visited domains

Elizabeth Kerr
A US Postal Services (USPS) domain is currently more popular than cdc.gov. Yes, you read that right! It's no secret that the USPS has been in a tailspin for some time now, struggling to make ends meet. It has been bleeding money and losing relevance as more people turned to private carriers like FedEx and UPS to handle their deliveries. 
But as we continue to deal with the COVID-19 pandemic, it has become clear that the USPS isn't an outmoded institution—it's an essential one. According to a moneytransfers.com analysis, Americans visited tools.usps.com more than any other government domain in March 2022. The domain recorded over 244 million unique visits in the preceding month.
Contrastingly, the CDC's website attracted 88.47 million visitors in the earlier month. That figure was a massive plunge from its over 432 million hits around the same spell in March 2020. Nevertheless, the U.S public still prefers the CDC for information on the current COVID-19 pandemic.
USPS' strong showing an indicator of its relevance?
USPS had a strong showing in MoneyTransfers' listing of the top 10 most visited government sites. The figures indicate a healthy interest in its services, pointing to its relevance.
Besides tools.usps.com, the mailman had three other domains making the list. The first of these was reg.usps.com which had 62 million Americans visiting. This domain is USPS' login and account registration page. However, it isn't clear how many of these were registering new accounts.
The second of these was informeddelivery.usps.com. This domain takes USPS users to a tracking page to view all the mail they're expecting digitally. The page attracted 61 million viewers. Finally, the postman's homepage usps.com drew the interest of 37 million Americans.
How did the other government departments fare?
MoneyTransfers's presentation also identified irs.gov as America's second most visited domain. The taxman's domain drew nearly 188 million visits. And following in the third spot was ncbi.nim.nih.gov, with some 123 million hits. 
Then came pubmed.ncbi.nim.nih.gov, which reported about 118 million unique visitors. CDC placed fifth on the list. Another domain in the health sector medlineplus.gov took the eighth slot. This one had roughly 58 million unique visits.
What's behind CDC's falling numbers?
CDC's record high visits in March 2020 coincided with a spike in coronavirus infections across the U.S. Moreover, it was a novel ailment ravaging the globe, and many were thirsting for information about it. 
Two years down the line, that novelty has waned. The government instituted containment measures and rolled out vaccinations which have considerably brought down infections. That has led to public information apathy, which explains the dip in visitors' numbers.
Again, despite retaining its authority on COVID-19 and other infectious diseases, the center isn't the only source of such information. That suggests that people are turning to places like Google and WebMD for details on the same.
Elizabeth Kerr
Elizabeth is a financial content specialist from Manchester. Her specialities include cryptocurrency, data analysis and financial regulation.