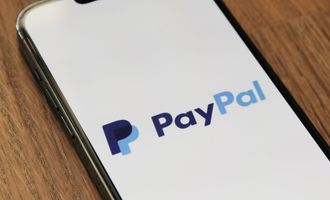 Key PayPal Statistics That Reveal Its Dominance in 2023

Martynas Pupkevicius
PayPal is one of the first and arguably the most well-known online payments company. Founded in 1998, the platform grew to fame as the payment service of choice for eBay users. Elon Musk even ran it for a brief time as its largest shareholder.
But this won't be a trip down memory lane. Instead, we'll take a look at the numbers and explore the most interesting PayPal stats and facts that shine a light on the size and success of the company.
Let's get started!
Top 10 PayPal Statistics & Facts for 2023:
PayPal has 429 million active users

PayPal's annual revenue is $25.4 billion

PayPal is offered on 770,793 websites in the US

Around 20% of PayPal users prefer the platform to banks

45% of PayPal users make payments weekly

$485 is the average balance on American PayPal accounts

PayPal is responsible for 14% of all US-based online transactions

65% of active PayPal users have the app installed

Online conversion rates are boosted if PayPal is offered at checkout

86% of users would recommend PayPal to friends
General PayPal Statistics
PayPal had 429 million active users in Q1 of 2022.
In 2010, PayPal had 84.3 million active users, and since then, the number has shot up to nearly 430 million. This is a strong level of growth which shows that PayPal continues to be one of the top electronic payment platforms.
Additionally, around 25% of their growth occurred since Q4 of 2019, strongly assuring that PayPal's market share remains dominant.
(Statista)
PayPal Credit is offered on 565 US websites, followed by 25 Canadian sites.
PayPal Credit is a platform that allows merchants to accept PayPal payments. The US has a large lead in the number of websites that use this platform compared to the rest of the world. With the massive number of PayPal users worldwide, it is an advantage to provide this payment processor.
Other top countries with websites that use PayPal Credit include the United Kingdom (14), Australia (11), Germany (11), India (10), and China (8).
After a change to PayPal's policies, small business owners are no longer required to have a PayPal for Business (Merchant) account and can instead opt for a Personal account. This saves them an extra 2.9% they would have to pay for each credit card and debit card purchase their customers make on top of the regular $0.30 fee.
(SimilarTech, HostPapa)
Men make up 57% of the employees at PayPal.
Overall, in the United States, males tend to occupy a large share of positions in tech companies. When you consider the various departments at PayPal, the ratio of men to women is even higher. This includes technical roles and VPs.
Digging deeper into the employee breakdown at PayPal, we can see that Caucasians make up 50% of employees, and they make up 61% of leadership positions.
(Statista)
PayPal's market share is 14% of all digital transactions in the US.
Many Americans rely on the platform for regular online shopping. PayPal processes billions of dollars per quarter, so the scale of their operation is comparable to large banks.
(Logica Research)
In 2018, PayPal had a checkout conversion rate of 88.7%
Checkout conversion rates are important for ensuring that businesses do not lose customers at the last stage of the buying process. The relatively high PayPal rates of conversion indicate that it is a trustworthy option with a user-friendly design.
(PYMNTS)
PayPal has a 70% higher checkout conversion than alternatives.
This statistic may reflect the fact that a large number of PayPal users find the checkout process more convenient if PayPal is offered. They require a minimal number of details compared to many other forms of payment. Also, credit card information can autofill because it is on file.
(Saleslion.io)
The average US PayPal balance is $485.
This is more than the average amount that is kept in a physical wallet, which is $196. Arguably, people feel that storing money digitally in their PayPal account is safer than storing it in a physical wallet. The perception could be that stealing money online is harder than losing a wallet.
(Logica Research)
PayPal's number of employees is 26,500.
PayPal's workforce is spread across 24 countries, and they have 45 offices worldwide. Therefore, it is a truly multinational company that offers services around the globe. Also, their services are offered in multiple languages.
The headquarters of PayPal are in San Jose, California, and the main operations center is in Nebraska.
(Craft)
eBay bought PayPal for $1.5 billion
In 2002, eBay acquired PayPal by buying $1.5 billion worth of stock. At the time, Elon Musk was the biggest shareholder with an 11.72% stake in PayPal, so he received $175.8 million from the transaction.
At the time, buying companies for over a billion was uncommon, so this PayPal data indicates that it was one of the top payment platforms at the time.
(SEC)
Around 1 in 5 Americas store money on PayPal because it is preferable to a bank account.
Some Americans prefer PayPal use over bank accounts because of some key advantages. Firstly, you need to enter fewer details when sending money with PayPal. Also, it is accepted by many online stores in the United States.
PayPal is a good backup choice in case bank accounts are not a viable choice. For instance, some online casinos accept PayPal but not bank transfers to deposit money to the cashier.
(Logica Research)
Stats That Indicate PayPal's Popularity
Up to 770,793 websites accept PayPal usage.
The large volume of websites offering PayPal highlights the market share of the brand. Most online stores feel that they would lose customers if PayPal was not offered as a method of paying for goods.
(E-Web Marketing)
5.3 billion PayPal payment transactions were executed in Q4 of 2021.
According to PayPal's revenue breakdown, this is a 21% increase over the previous quarter. The main reason behind it is likely the Christmas shopping period, which traditionally receives the bulk of sales every year.
During the same period, PayPal added 9.8 million accounts, which resulted in an increase of 13% to their user base. This is a strong level of growth decades after it was founded.
(PayPal)
PayPal's revenue in 2021 was $25.4 billion, an increase of 17% over the previous year.
The strong revenue numbers by PayPal highlight its dominance in the online payments industry. During the same year, the operating income was $4.3 billion, which is a 30% increase over the previous year. The number suggests that PayPal will continue to grow as they capture more customers.
(PayPal)
PayPal enjoyed a transaction margin of 52.3% in Q4 of 2021.
The number is down from 57.8% in Q1 of 2021, but it has hovered around 55% for the last few years. The high PayPal percentage of profits allows them to innovate and provide a modern financial payments platform. It is one of the key factors that continue to drive their growth.
(PayPal)
Online shoppers are 54% more likely to buy when PayPal is offered at the checkout.
PayPal is a trusted merchant that many customers use to purchase goods online. Therefore, when it is not available, it might be easier to purchase with a competing website that offers PayPal than to register with a different online payment platform.
There are multiple security features available such as the PayPal spending limit of up to $4000 which provide customers peace of mind when shopping with unfamiliar websites.
(Total Retail, Freshbooks)
86% of customers would recommend PayPal to friends.
This shows that part of PayPal's success is word of mouth. As users encourage others to use PayPal, the company can grow organically. This is cheaper and more effective than any other type of marketing.
(E-Web Marketing)
Informative PayPal Mobile Devices Statistics
In Q1 of 2019, PayPal's mobile payments increased by 52%.
(PYMNTS)
Mobile devices used to make payments and send money abroad have increased dramatically during the last few years. PayPal offers a free mobile app for Android and iOS users that allows transactions to be completed on the go.
The simplicity of the user interface and strong security features means the app is a viable alternative for using desktops or purchasing goods online.
65% of active PayPal users have the app installed.
This statistic indicates that most smartphone users have PayPal on their devices. Apple Pay, Google Pay, and Venmo are the other payment apps commonly found on mobile devices. Keep in mind that Venmo is a PayPal-owned service that facilitates bank transfers.
PayPal users can use the app to check their account balances, send money, and pay bills. Also, customer service can be contacted if they need help with a transaction.
(Strategycorps)
45% of users make payments with PayPal every week.
PayPal not only has a lot of users, but they use the app frequently as well. Nearly half of all users make weekly payments with the PayPal app, once again showing its convenience.
(Strategycorps)
PayPal's annual payment volume in 2018 was $227 billion.
The large transaction volume of PayPal is unmatched by other mobile payment apps. Their fast checkout process and attractive user interface keep customers buying on the app.
(Statista)
PayPal FAQs
How many users does PayPal have?
How many PayPal transactions per day are there?
How much money does PayPal make?
Who is PayPal's biggest competitor?
Conclusion
The PayPal facts and stats on this page show it is a market leader in the online payments industry. In recent years, they have recorded significant increases in their user base and revenue. PayPal continues to dominate the global online shopping world as they grab more active users each financial quarter.
However, new companies are giving PayPal fierce competition. Services like Google Pay and Skrill are key competitors that are actively trying to capture customers away from PayPal. The PayPal statistics for 2023 above indicate that it is adapting and continues to grow, successfully keeping competitors at bay for decades.
Sources:
Martynas Pupkevicius
Martynas is a seasoned freelance writer that has written on a broad range of topics over his 10 year career. He enjoys diving into the research and sharing what he's learned with readers.