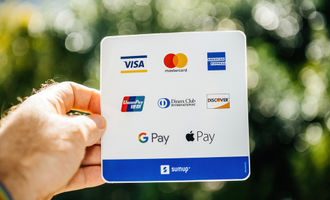 SumUp valuation spikes to 8 billion euros as fintech companies struggle

Crispus Nyaga
SumUp, a mPOS (mobile point-of sale) company has raised 590 million euros; placing it at a valuation of 8 billion euros. The funds raised in the latest funding round are split between debt and equity.
The payments startup was founded in 2012 with the intent of offering payments solutions to businesses in different sectors. Through its card readers, merchants are able to accept debit and credit cards as well as contactless payments. Its customers also benefit from the provided links for accepting online payments in addition to invoicing.
Notably, the price tag in its latest round is less than half of the 20 billion euros value suggested earlier in the year. The fundraising round would have placed the company as one of the most valuable startups within the UK.
In light of the lower valuation, the firm's chief executive, Marc-Alexander Christ stated that the management decided to proceed with the funding round for "peace of mind to investors, that even during a black swan event…we can still raise money". He further noted that SumUp does not necessarily need the funds as it is about to break even. As such, it seeks to use the raised funds to finance acquisitions and as a buffer for unforeseen occurrences in the future.   
Last year, it acquired Fivestars, a San Francisco-based customer loyalty site, for $317 million after a funding round in March that yielded 750 million euros. In 2019, it bought Shoplo- a polish ecommerce firm.
SumUp is among a growing number of companies in the tech industry that have been impacted by the global sell-off. Heightened inflationary pressures and the hawkish response from key central banks are largely behind the ongoing economic turmoil. Additional factors such as the Russia-Ukraine war have also fuelled the downturn.
About a week ago, Klarna, a Swedish 'buy now pay later' company tried to raise funds at a valuation of $15 billion. That price tag is less than half of its peak value of $46 billion.
Crispus Nyaga
Crispus is a financial analyst with over 9 years in the industry. He covers the stock market, forex, equities, and commodities for some of the leading brands. He is also a passionate trader who operates his family account. Crispus lives in Nairobi with his wife and son.