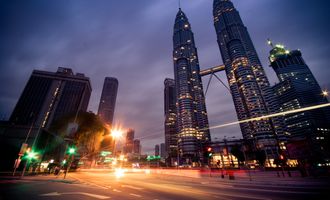 Government Assurances Cannot Lift the Malaysian Ringgit
Despite Malaysian Finance Minister Zafrul Aziz' attempt to restore calm, the Malaysian Ringgit continues to trade at a 5-year low vs. the US Dollar.
Speaking to parliament, Aziz said Malaysia is not at risk of bankruptcy like Sri Lanka, and that the government continues to manage its debt "prudently".
The IMF has never said that Malaysia is facing economic troubles that could bankrupt the country,

Malaysian Finance Minister Zafrul Aziz
The minister pointed to an International Monetary Fund (IMF) report stating the organization expects the Malaysian economy to grow 5.75% in 2022. However, a study by Bloomberg shows the odds of Malaysia defaulting on its debt rose to 2.43% — a reading above 1.5% signifies increased default risk.
Although discounting a default, the address highlighted the headwinds facing the south-east Asian nation. The biggest, is the countries' inability to tap the capital markets for more cash. The cost of servicing the nations' debt increased to 20% of revenue in 2022 — likely to heap more woe on the economy, and the national currency.
Malaysian Ringgit Outlook
The USD/MYR chart highlights how poorly the Ringgit has performed vs. the US Dollar this year. The Ringgit is down -11.28% year-to-date. Subsequently, USD/MYR is holding just above the March 2020 high of $4.4510.
One major problem the economy faces is falling commodity prices. Oil exports account for 20% of Malaysia's GDP. Therefore, if oil prices continue lower, the drop in revenue will further exacerbate the debt burden. For this reason, there may be more pain on the horizon for the Malaysian Ringgit. But how much higher could the USD/MYR pair go?
As the government's ability to stimulate the economy is tied, the Ringgits immediate future relies on external factors. On Wednesday, the US Federal Reserve's FOMC committee announces its interest-rate decision. The market is pricing a 75 basis point hike, followed by further increases into the end of the year. If the committee softness its hawkish-tone, the US Dollar may fall. In this event, the Ringgit may get a near-term reprieve. However, as long as the threat of government default hangs overhead, gains are likely to be limited.
USD/MYR Price Chart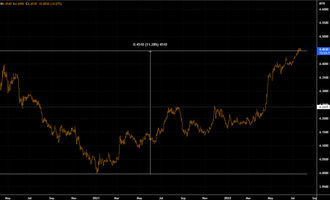 Elliot Laybourne
Elliott is a former investment banker with a 20 year career in the city of London. During this time he held senior roles at ABN Amro, Societe Generale, Marex Financial and Natixis bank, specialising in commodity derivatives and options market-making. During this time, Elliott's client list included Goldman Sachs, JP Morgan, Credit Suisse, Schroders Asset Management, and the Pennsylvania State Public School Employees Retirement System, amongst others. Today, he splits his time between Thailand and Dubai, from where he provides trading consultancy and business development services for family office and brokerage clientele.