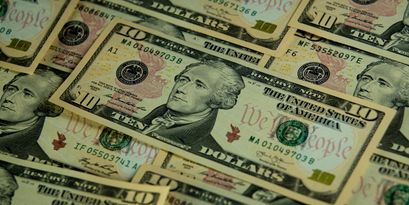 US Dollar Index Ends July on a Somber Note as Fed Concerns Remain

Crispus Nyaga
The US dollar index ended July on a somber note as it came under strong selling pressure. The DXY, which measures the performance of the greenback against a basket of currencies, ended the month at $106.30, which was about 3% below the highest point during the month.
Fed to turn dovish
The US dollar index declined as the market started to predict that the Federal Reserve will turn dovish in the coming months. This thinking is mostly because of the current state of the American economy. Data published on Thursday revealed that the economy sunk to a recession in the second quarter. It contracted by 0.9% in Q2 after weakening by 1.6% in the previous quarter.
Sadly, other economic numbers from the US are not encouraging as well. For example, data published this week showed that new and existing home sales declined sharply in June. In the previous week, data showed that building permits and housing starts also fell.
Most importantly, consumer confidence has dropped sharply as consumers continue worrying about inflation. Inflation has risen to over 9%, which was the highest point in decades.
Therefore, the American economy is facing a situation that is worse than a stagflation. Stagflation is usually characterized by a period of high inflation and low economic growth. Now, the economy is not even growing.
Therefore, the US dollar index declined since analysts believe that the Fed will struggle hiking interest rates without causing more damage to the economy. Earlier this week, the Federal Reserve decided to hike interest rates by another 75 basis points.
European growth
The euro has the biggest weighting in the US dollar index. It is responsible for about 57%. As such, the dollar index declined after Europe published encouraging data. The numbers revealed that the bloc's economy expanded by 0.7% in Q2 and by 4.0% on a year-on-year basis. This increase was better than what analysts were expecting.
Europe also published strong consumer inflation data. The bloc's inflation surged at the fastest pace ever recorded in July. It rose by 8.9%. Therefore, the European Central Bank (ECB) will likely continue hiking interest rates in a bid to fight this inflation.
Crispus Nyaga
Crispus is a financial analyst with over 9 years in the industry. He covers the stock market, forex, equities, and commodities for some of the leading brands. He is also a passionate trader who operates his family account. Crispus lives in Nairobi with his wife and son.