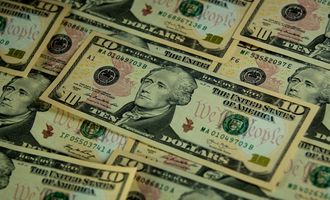 NZD/USD Lower on NZ Unemployment Fears
NZD/USD dropped almost 1% on Friday after the blowout US unemployment data highlighted the differing prospects for the US and NZ labor markets.
The kiwi to dollar exchange rate fell from an intraday high of 0.6309 to a low of 0.6212 after data showed the united states added much more jobs in July than predicted.
The US Non-Farm Payrolls (NFP) statistics exceeded analyst expectations by a wide margin. The data was forecast to show that the US economy created 250,000 new jobs in July. However, the actual print of 528,000 blew expectations out of the water. As a result, the rate of unemployment fell from 3.6% to 3.5% in July.
The US dollar rose in response to the bumper to reflect the view that the Federal Open Market Committee (FOMC) can now afford to keep policy tight.
After last month's 75-basis point increase, Fed Chair Powell said that future interest rate increases would be data-dependent. With this in mind, the strong labor market data should keep the fed on track in the fight against inflation.
New Zealand's Unemployment set to Grow
According to a report from Bloomberg, some economists believe New Zealand's job market has peaked, as the Reserve Bank's rapid rate increases weigh on demand and discourage further hiring.
The Bank of New Zealand anticipates that unemployment will rise to 3.4 percent in the fourth quarter, up from 2.9 percent previously, and 3.9 percent by the second quarter of next year. Whereas, Westpac has the same fourth-quarter forecast, though it only sees the unemployment rate at 3.6 percent.
Kiwi Dollar to US Dollar Outlook
The daily price chart shows NZD/USD is struggling to clear the 50-Day Moving Average (DMA) at 0.6278 (green line). Subsequently, technical traders may be encouraged to enter short positions here.
If the price remains below the 50-DMA, an extension down to the 0.6150 – 0.6200 range is probable. However, a close above could see the Kiwi strengthen.
The first half of the week is light on economic data. Therefore, we expect slow price action until Wednesday's US Consumer Price Index release. 
The CPI is expected to show that inflation slowed to 0.2 percent in July, from 1.3 percent in June. Should the data surprise you in either direction, NZD/USD could be volatile towards the end of the week.
NZD/USD Exchange Rate Chart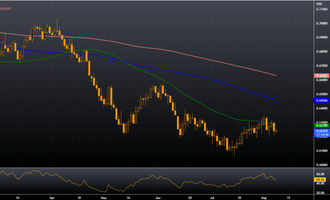 Elliot Laybourne
Elliott is a former investment banker with a 20 year career in the city of London. During this time he held senior roles at ABN Amro, Societe Generale, Marex Financial and Natixis bank, specialising in commodity derivatives and options market-making. During this time, Elliott's client list included Goldman Sachs, JP Morgan, Credit Suisse, Schroders Asset Management, and the Pennsylvania State Public School Employees Retirement System, amongst others. Today, he splits his time between Thailand and Dubai, from where he provides trading consultancy and business development services for family office and brokerage clientele.