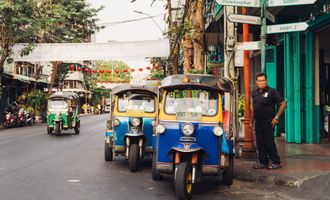 USD/THB Slumps on Thai Baht Strength
USD/THB is on track for its longest losing streak since February as the Thai baht strengthens ahead of today's interest rate decision from the bank of Thailand.
At the time of writing, the US dollar to Thai baht rate is 35.35 (-0.9%), around 4.3% lower than the 17-year high set in July. The reason for the recent reversal is the growing belief the Bank of Thailand (BOT) is finally ready to tighten monetary policy.
The Thai central bank has been somewhat behind the curve in raising interest rate this year. Whilst many nations have raised borrowing costs to fight inflation, the BOT has kept the benchmark rate at 0.50 percent. The reason for this, is to keep the baht relatively weak to stimulate the economy. As a result, the Thai baht dropped 11% against the US dollar between January and July this year, encouraging exports, tourism, and remittances from overseas workers who send money to Thailand.
Thai Interest Rates
Later today the BOT is widely expected to deliver a 75-basis-point rate hike, which could encourage more buying of the Thai baht. Although not everyone agrees with the consensus. Analysts at Goldman Sachs predict Thai policymakers will hike by just 25%.
"Although several Asian central banks have surprised markets on the hawkish side this year, Thailand's policymakers are likely to take a more cautious approach".
US Dollar to Thai Baht Outlook
The daily chart shows the USD/THB pair is below the 50-Day Moving Average (DMA) at 35.69 (green line). Furthermore, the pair is grappling with a long-term rising trend line at 35.42.
The price is trading below the trend support as I write, indicating a potential breakdown. In this event, the 100-DMA at 34.87 (blue line) is a logical downside target.
By contrast, a daily close above the trend line reinforces its significance. In this case, the 50-DMA is the first technical resistance. Whereas a stronger rally could target the July highs.
Until the BOT's decision later today, it's impossible to predict which scenario will play out. However, considering the baht's recent strength, the market is likely to be disappointed if the central bank doesn't deliver a meaningful policy adjustment.
USD/THB Price Chart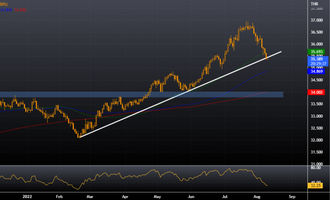 Elliot Laybourne
Elliott is a former investment banker with a 20 year career in the city of London. During this time he held senior roles at ABN Amro, Societe Generale, Marex Financial and Natixis bank, specialising in commodity derivatives and options market-making. During this time, Elliott's client list included Goldman Sachs, JP Morgan, Credit Suisse, Schroders Asset Management, and the Pennsylvania State Public School Employees Retirement System, amongst others. Today, he splits his time between Thailand and Dubai, from where he provides trading consultancy and business development services for family office and brokerage clientele.