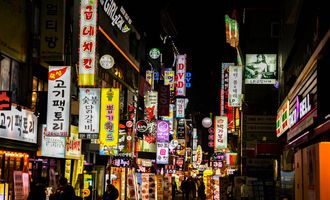 USD/KRW To Strengthen on Won's China Problem
USD/KRW is higher on Thursday as the US dollar continues to cut a path towards a new 13-year high against the under-fire won.
South Korea's currency problems are two-fold. Firstly, the dollar rally (vs everything) shows no signs of slowing.
The greenback has notched up considerable gains against all almost all of its major trading partners this year. This comes as the Federal Open Market Committee (FOMC) gest ahead of the curve in the fight against inflation. Second, is the worrying slowdown in China — Korea's largest trading partner.
The FOMC raised the benchmark rate by 75 basis points in June and July and is expected to provide a similar-sized hike at the next scheduled meeting. Last week, there were growing calls for the fed to slow down the pace of rate hikes after the consumer inflation data came in below expectations.

Headline Consumer Price Index (CPI) data for July revealed prices rose at 8.5 percent on an annualized basis. This was below analysts expectations of 8.7 percent, and down on June's 9.1 percent reading. However, not everyone is convinced the fed will waiver any time soon.
Speaking to CNBC, Victoria Fernandez, chief market strategist at Crossmark Global Investments said:
"Not anything coming out of the economic reports from CPI or the PPI in today's session is going to change that at this point in time. I think we still have a considerable ways to go,"
Korean Trade Deficit
A major problem facing South Korea is its widening trade deficit. There are two main factors driving the imbalance. Firstly, high energy and food prices are importing inflation. Secondly, demand for Korean goods and services from China have slowed as the country battles an economic slowdown.
As a major exporter, the country relies heavily on the Chinese institutions who send money to Korea. For this reason, the situation in China is likely to exert more downward pressure on the South Korean economy.
US Dollar to Korean Won Forecast
The daily chart shows USD/KRW is breaking out to the upside. As such, we could see more USD strength in the days ahead. In light of this, the 13-year high of 1,329 set in July may soon come under threat. Technically speaking, above 1,329 there is daylight all the way up to 1,600.
Below the market, the 50-Day Moving Average (DMA), at 1,301 (green line) provides technical support. Only a close below this indicator would suggest the bullish momentum has stalled. For this reason, the outlook is positive above 1,301, flipping to bearish below.
USD/KRW Price Chart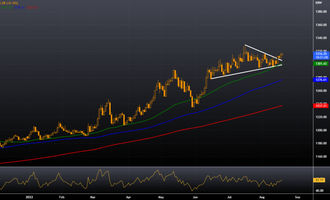 Elliot Laybourne
Elliott is a former investment banker with a 20 year career in the city of London. During this time he held senior roles at ABN Amro, Societe Generale, Marex Financial and Natixis bank, specialising in commodity derivatives and options market-making. During this time, Elliott's client list included Goldman Sachs, JP Morgan, Credit Suisse, Schroders Asset Management, and the Pennsylvania State Public School Employees Retirement System, amongst others. Today, he splits his time between Thailand and Dubai, from where he provides trading consultancy and business development services for family office and brokerage clientele.