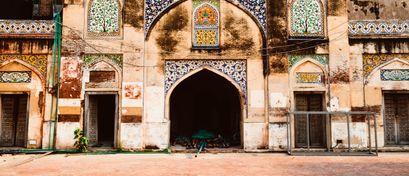 GBP/PKR Steady at Support After Huge Decline
The GBP/PKR pair's rip-roaring three- week losing streak has paused for breath as the rate approaches a key technical support level.
After reaching a record low against the pound at the start of this month, the Pakistani rupee has been on a tear. On August 1, the Asian currency began a huge rally against major trading pairs revived hopes of an IMF bailout.
The rupee sank in May through July over fears that Pakistan's economy is on the verge of crashing. The worries stem from the collapse of neighbor Sri Lanka, prompting the national currency to trade at its weakest ever against the British Pound.
Sri Lanka's economy imploded when it failed to meet its financial commitments. As a result, the debt crisis may drag neighboring nations into the economic abyss.
On August 29, the International Monetary Fund (IMF) will convene to discuss Pakistan's request for $1.17b in emergency funding. The loan took a step closer after Pakistan's Finance Minister revealad the Government had sent a letter of Intent (LoI) to the IMF.
The development paves the way for the IMF to release the next tranche of the Extended Fund facility (EFF) payment. As a result, the rupee has gained over 11 percent against sterling since the start of the month. And whilst this is a huge boost for the nation, it may slow remittances from the almost 2 million Pakistani immigrants in the United Kingdom who regularly send money to Pakistan.
Pound to Pakistani Rupee Outlook
The daily chart shows GBP/PKR has reversed almost all of the gains made in July. Although notably, the rate is finding a floor around trend support at 255.00. If the rising trend line gives way, the 100-Day Moving Average (DMA) at 251.40 is the next port of call.
A close below the 100-DMA (blue line) opens the door towards the more significant 200-DMA at 244.38 (red).
However, the rupee's strength relies on the IMF release. If any doubts emerge regarding the release, the Rupee could find itself back on theslide.
GBP/PKR Price Chart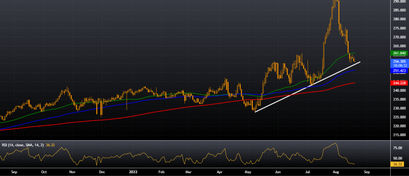 Elliot Laybourne
Elliott is a former investment banker with a 20 year career in the city of London. During this time he held senior roles at ABN Amro, Societe Generale, Marex Financial and Natixis bank, specialising in commodity derivatives and options market-making. During this time, Elliott's client list included Goldman Sachs, JP Morgan, Credit Suisse, Schroders Asset Management, and the Pennsylvania State Public School Employees Retirement System, amongst others. Today, he splits his time between Thailand and Dubai, from where he provides trading consultancy and business development services for family office and brokerage clientele.