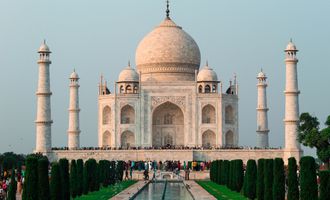 GBP/INR Sinks to One-Month Low on Weak Pound
GBP/INR is down for the seventh-consecutive day as the rupee shows no signs of weakening against the struggling British pound.
Another day, another loss for sterling. At the time of writing, the rupee is higher by 0.30 percent against the pound. Bringing it's seven-day performance to +3.20 percent.
The Indian currency has performed well against its British counterpart this year. As it stands, the rupee is up almost 7 percent against the pound year-to-date. This is in stark contrast to how it has has fared against the US Dollar, highlighting the relative weakness of sterling. The pound's slump has implication for the almost 2 million Indian immigrants living in the UK who regularly send money to India. Unfortunately, the signs point to more weakness for the pound in the days and weeks ahead.
The dollar has gained over 7 percent against the rupee year-to-date. Furthermore, the greenback is pushing towards its highest ever level against the Indian currency.
The rupee's poor performance against the greenback comes as the nation draws down its US dollar reserves. In the week ending August 12, the Reserve Bank of India (RBI) spent $2 billion attempting to keep the rupee below 80 to the dollar. At last count, the country's forex reserves have slumped to just $570 billion, from almost $650b earlier in the year. Despite this, India remains the fourth-largest holder of forex reserves.
Pound to Rupee Forecast
The daily chart shows GBP/INR has broken down from a rising trend channel. Furthermore, the rate is below the 50, 100, and 200-Day Moving Averages (DMAs). As a result, the pound is likely to test June's eighteen-month low of 93.20 in the coming sessions.
With that in mind, the immediate outlook for GBP/INR is lower. However, if the pair climbs above the rising trend at 95.30, and the 50-DMA at 95.62 (green line), the outlook flips to bullish.
GBP/INR Price Chart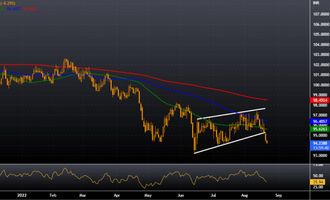 Elliot Laybourne
Elliott is a former investment banker with a 20 year career in the city of London. During this time he held senior roles at ABN Amro, Societe Generale, Marex Financial and Natixis bank, specialising in commodity derivatives and options market-making. During this time, Elliott's client list included Goldman Sachs, JP Morgan, Credit Suisse, Schroders Asset Management, and the Pennsylvania State Public School Employees Retirement System, amongst others. Today, he splits his time between Thailand and Dubai, from where he provides trading consultancy and business development services for family office and brokerage clientele.