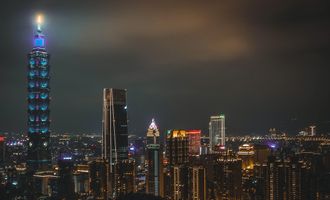 USD/TWD: Surging Dollar Rips to a Two-Year High
USD/TWD is breaking ground at the highest level since April 2020 as the mighty US dollar's recent rally begins to accelerate.
Th US dollar to Taiwan dollar exchange rate is firmly in bull mode. The pair has climbed higher steadily in the last three months, with the greenback appreciating almost +4.50 percent in that time.
Several factors are contributing to the USD/TWD strength, including a sharp slowdown in China and heightened geopolitical tensions. Not forgetting, the general safe haven bid for greenbacks.

In light of this, institutions have reduced exposure to Taiwan, selling the currency and domestic stocks. Subsequently, calls for central bank intervention are growing louder.
For now it seems, the Central Bank of the Republic of China (Taiwan) is happy to let market forces dictate the New Taiwan dollar's valuation. It's likely this is to stimulate exports to the nations largest trading partners, China, Hong Kong and the United States.
The exporter economy relies heavily on the nations that send money to Taiwan for for high-tech equipment like semiconductors. Considering mainland China and Hong Kong accounted for over 40 percent of Taiwan's exports last year, a slowdown in China could be catastrophic for the Taiwan dollar.
US Dollar to Taiwan Dollar Exchange Rate
The daily chart shows USD/TWD is above 30.00 for just the second time this year. As a result, the rate is likely to reach the 2020 high of 30.56 sometime soon.
Notably, the pair is above the 50, and 100-Day Moving Averages (DMA's). The 50-DMA at 29.85 (green line) provides the first significant technical support level. As long as the price remains above this indicator, the outlook is bullish.
By contrast, a close below the 50-DMA could encourage some profit taking from USD longs. In this event, the 100-DMA at 29.61 (blue) is a logical destination. Whereas, a steeper decline would target the 28.77 (200-DMA in red) to 29.00 range.
USD/TWD Price Chart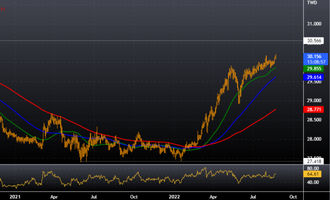 Elliot Laybourne
Elliott is a former investment banker with a 20 year career in the city of London. During this time he held senior roles at ABN Amro, Societe Generale, Marex Financial and Natixis bank, specialising in commodity derivatives and options market-making. During this time, Elliott's client list included Goldman Sachs, JP Morgan, Credit Suisse, Schroders Asset Management, and the Pennsylvania State Public School Employees Retirement System, amongst others. Today, he splits his time between Thailand and Dubai, from where he provides trading consultancy and business development services for family office and brokerage clientele.