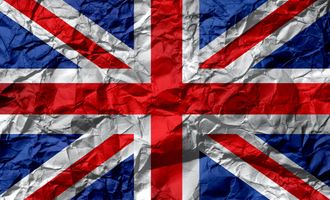 GBP/JPY To Weaken on Dire UK Forecast?
GBP/JPY continues to chop around in the 160.00 -163.00 trading range. However, considering the state of the UK economy, the pound may soon fall out of bed.
The pound and the Japanese Yen have been battered by the strong dollar this year. Although sterling is faring better against the buck than the yen which is down 19 percent, the pound has slumped 12 percent year-to-date. Subsequently, GBP/JPY is modestly higher by around 4 percent in 2022. However, the economic situation in the UK is forecast to deteriorate sharply in the coming months. As a result, the yen should pare its losses against the pound.
Citibank issued a troubling analysis on Tuesday, predicting that UK inflation might reach a startling 18.6 percent next year. According to the bank, rising energy costs will drive consumer prices to levels last seen in the 1970s.
As a result of the assessment, interest rate forecasts shot higher. According to the financial markets, the Bank of England (BOE) could raise rates as high as 4.00 percent in early 2023. Nonetheless, the pound continues to limp lower against major trading pairs.
Pound to Yen Forecast
Although GBP/JPY has gained modestly from yesterday's low of 160.80 the rate has fallen 1.4 percent in the last week. Furthermore, the pound has lost over 4 percent against the yen since June.
Notably, the price action has left a narrowing pennant formation on the chart. Typically, this type of pattern precedes a breakout. Unfortunately for the pound, the breakout looks likely to be lower.
Presently, GBP/JPY is testing the trend support that makes up the lower edge of the pennant at 160.70. Should the rate fall below 160.70 an extension towards the 100-Day Moving Average (DMA) at 158.96 (red line) looks likely.
For now, the pound is hanging in there. For that reason, the immediate outlook is neutral. However, below the trend line support the pound's prospects dramatically deteriorate.
GBP/JPY Price Chart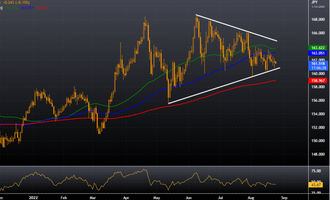 Elliot Laybourne
Elliott is a former investment banker with a 20 year career in the city of London. During this time he held senior roles at ABN Amro, Societe Generale, Marex Financial and Natixis bank, specialising in commodity derivatives and options market-making. During this time, Elliott's client list included Goldman Sachs, JP Morgan, Credit Suisse, Schroders Asset Management, and the Pennsylvania State Public School Employees Retirement System, amongst others. Today, he splits his time between Thailand and Dubai, from where he provides trading consultancy and business development services for family office and brokerage clientele.