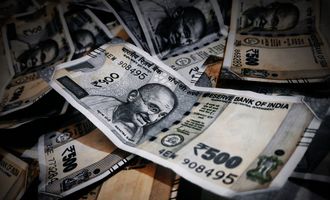 USD/INR Stalls Below Record High
USD/INR continues to push against the psychological 80.00 barrier on Wednesday as dollar strength and high oil prices weigh on the rupee.
The US dollar is higher against most Asian currencies this week as risk-aversion builds across markets. As such, the rupee is close to it's lowest ever level against the dollar. The dollar has gained over 7 percent against the Indian currency year-to-date, rising from 74.50 to 79.86 at the time of writing.
The rupee's decline comes as India battles to contain rising inflation caused by high energy prices. The country is the world's third-largest oil importer, with around 90 percent of that priced in US dollars. As such, the dollar strength is a doubled-edge sword. The higher the dollar goes, the higher the cost of oil, which in turn weakens the rupee.
The economic cost of high oil prices is evident in India's widening trade deficit. In July, India's trade deficit reached a record -$30 billion, as imports outpaced exports at a frightening pace. Considering the weaker rupee is attracting remittance capital, the imbalance is especially worrisome .
The nation is the world's largest recipient of inbound remittances, primarily from migrant workers who send money to India to cover family expenses. According to recent data, more money is traveling from the United States to India than ever before, as senders take advantage of the dollar's strength. Furthermore, considering the rupee's weak outlook, those same senders may soon get more bang for their buck.
US Dollar to Rupee Forecast
Looking at the daily chart, we see USD/INR has trended higher all year. Notably, the pair continues to find strong support at the 50-Day Moving Average (DMA) currently at 79.23 (green line).
As long as USD/INR remains above the 50-DMA, it will continue to trade with a bullish bias. With this in mind, a new all-time high should arrive sometime soon.
By contrast, a daily close below the 50-DMA sets the stage for a deeper decline. Here, a logical target is the longer-term 100-DMA at 78.15 (blue line).
USD/INR Price Chart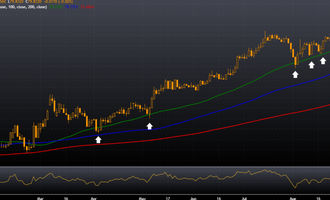 Elliot Laybourne
Elliott is a former investment banker with a 20 year career in the city of London. During this time he held senior roles at ABN Amro, Societe Generale, Marex Financial and Natixis bank, specialising in commodity derivatives and options market-making. During this time, Elliott's client list included Goldman Sachs, JP Morgan, Credit Suisse, Schroders Asset Management, and the Pennsylvania State Public School Employees Retirement System, amongst others. Today, he splits his time between Thailand and Dubai, from where he provides trading consultancy and business development services for family office and brokerage clientele.