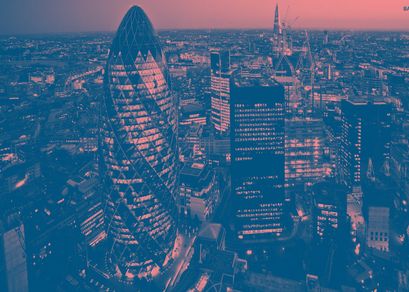 GBP/NZD: A Race to The Bottom
GBP/NZD is back on the slide on Thursday as the British pound struggles under the weight of the UK's gloomy economic outlook.
The pound continues to lose ground against the New Zealand dollar. Although both currencies have performed poorly this year, sterling is worse-off.
NZ's economy is forecast to slow down in the coming months, but the UK economy is forecast to fall off a cliff.
Earlier in the week, investment bank Citibank said UK inflation could rocket above 18 percent in early 2023. The report says the growing energy crisis caused by Russia's invasion of Ukraine could send the rate of inflation to the highest since the late 1970s.
High gas prices are on the verge of causing a cost-of-living crisis in the UK. The average cost of heating a home is expected to rise above £6,000 per year in April. Subsequently, the pound is falling fast against major trading pairs. And with no end in sight for the energy crisis, the pound may fall much further in the months ahead.
Pound to Kiwi Dollar Forecast
The daily chart shows GBP/NZD is trading just above the long-term support between 1.8700 and 1.8870 (highlighted).
The pair is below the key moving averages (DMAs). And notably, the 50-DMA (green) has crossed below the 100-DMA (blue), reinforcing the bearish momentum. With this in mind, we should expect the rate to head towards the lower end of the support band.
If the support fails to hold, GBP/NZD will likely test the December 2020 lows around 1.8750. The bearish outlook remains as long as the rate is beneath the 50 and 100-DMAs, just above 1.9250.
GBP/NZD Price Chart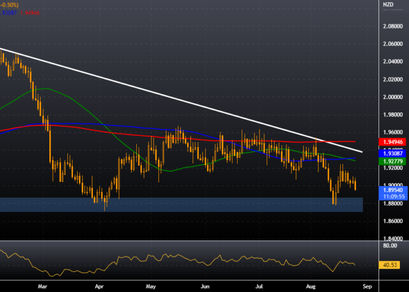 Elliot Laybourne
Elliott is a former investment banker with a 20 year career in the city of London. During this time he held senior roles at ABN Amro, Societe Generale, Marex Financial and Natixis bank, specialising in commodity derivatives and options market-making. During this time, Elliott's client list included Goldman Sachs, JP Morgan, Credit Suisse, Schroders Asset Management, and the Pennsylvania State Public School Employees Retirement System, amongst others. Today, he splits his time between Thailand and Dubai, from where he provides trading consultancy and business development services for family office and brokerage clientele.