USD/INR: Knocking on Heavens Door
USD/INR must decide if it wants to break violently higher or reverse sharply lower. One will happen soon, but which one is it?
My recent reports on USD/INR have a common theme, "rupee at all-time low" or "US dollar set to break higher." But the dollar is yet to break higher, and the rupee is stable. For the last five days the US dollar to Indian rupee exchange rate has done nothing. In fact, the trading range is just 0.20 percent. Which begs the question, what happens now?
Either the US dollar finally breaks higher, or the rupee strengthens, but which?
It's hard to predict which scenario will unfold. Tomorrow, fed Chair Jerome Powell will speak at the Jackson Hole symposium, which could provide clues on future FOMC policy.
But while the consensus is that Powell will be hawkish. Not everybody is convinced the dollar will strengthen.
Bloomberg analyst Simon White cites the rising cost of US dollar denominated assets as a headwind for the greenback.
Because most major commodities are priced using dollars, the strong dollar is making them less affordable for other countries. Subsequently, White predicts global trade will slow down, creating less need for dollars.
The cost of a strong dollar is obvious for India. The country is the third-largest importer of crude oil, often priced in US dollars. Because of this, India's trade deficit is widening, further weakening the rupee.
One advantage is that the weaker currency attracts capital from other countries. India is the largest receiver of inbound remittances. Most coming from immigrants who send money to India for family expenses. Whether those senders get a better or worse deal in the future depends on how USD/INR performs at this key level.
US Dollar to Indian Rupee Forecast
The daily price chart shows USD/INR is pushing against trend line resistance just beneath the psychological 80.00 level. The longer the pair remains below the trend, the greater odds of a reversal.
Here, the 50-Day Moving Average (DMA) at 79.28 (green line) is the first notable support level. But if USD/INR clears the resistance, it may finally achieve the long-awaited breakout.
USD/INR Price Chart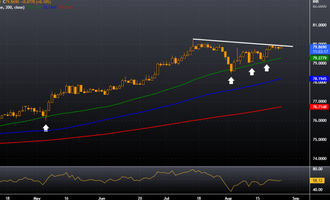 Elliot Laybourne
Elliott is a former investment banker with a 20 year career in the city of London. During this time he held senior roles at ABN Amro, Societe Generale, Marex Financial and Natixis bank, specialising in commodity derivatives and options market-making. During this time, Elliott's client list included Goldman Sachs, JP Morgan, Credit Suisse, Schroders Asset Management, and the Pennsylvania State Public School Employees Retirement System, amongst others. Today, he splits his time between Thailand and Dubai, from where he provides trading consultancy and business development services for family office and brokerage clientele.