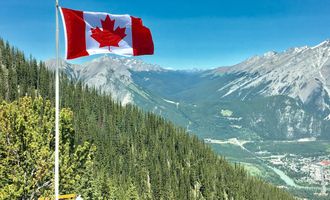 GBP/CAD Aiming for Lowest level Since 1986
GBP/CAD has already dropped 12 percent since the start of the year, and by the look of the chart, it could fall even further.
The British Pound to Canadian dollar exchange rate has suffered this year. The pound continues to lose ground against the loonie as traders bet the UK economy will grind to a halt.
Britain is in crisis. Rising energy prices because of the conflict in Ukraine are crippling the UK economy.
Reports suggest the average cost of heating a home in the UK could reach over £6,000 next year. Because of this, there are growing concerns the nation will experience stagflation similar to the late 1970s.
Stagflation, a stagnant economy twinned with high inflation, is an economic nightmare, and that's why the outlook for the GBP/CAD pair is so dire.
While high oil and gas price hurt the UK economy, they're a boost for Canada, a net exporter of both. Canada is the largest oil importer to the United States, accounting for over 1 percent of America's oil demand. Not to forget the nation's massive gas exports.
With this in mind, the Canadian dollar should continue to strengthen against the struggling British pound.
Pound to Canadian Dollar Outlook
The weekly price chart shows the current level of GBP/CAD is 1.5300, a twenty-year low.
If the rate breaks down from here, the next stop could be the 2010 low of 1.4835. And below that, there's nothing to stop it from free-falling to the 1986 low of 1.4559.
Because of this, it's hard to have anything other than a bearish view. However, the Relative Strength Index (RSI) reading of 27.23 is extremely low, suggesting a crowded short pound trade, meaning the rate is technically oversold. Regardless of this, the risk remains skewed to the downside.
The only thing that changes the immediate outlook is if GBP/CAD climbs above the resistance at 1.5736. In that event, the technical outlook improves from bearish to near-term bullish.
GBP/CAD Price Chart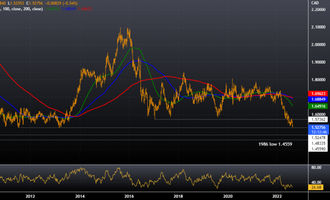 Elliot Laybourne
Elliott is a former investment banker with a 20 year career in the city of London. During this time he held senior roles at ABN Amro, Societe Generale, Marex Financial and Natixis bank, specialising in commodity derivatives and options market-making. During this time, Elliott's client list included Goldman Sachs, JP Morgan, Credit Suisse, Schroders Asset Management, and the Pennsylvania State Public School Employees Retirement System, amongst others. Today, he splits his time between Thailand and Dubai, from where he provides trading consultancy and business development services for family office and brokerage clientele.