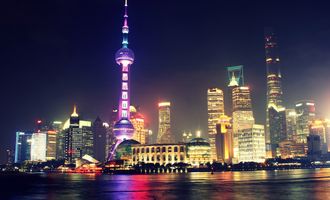 USD/CNY to Move Higher Says Credit Agricole
A senior foreign exchange analyst at Credit Agricole says USD/CNY should trade higher in the weeks ahead as the Chinese economy slows further.
Speaking to Yvonne man and Rishaad Salamat on "Bloomberg Markets Asia," EM Strategist Eddie Cheung said he expects more dollar strength against the Yuan.
Although Cheung said we may be close to peak FOMC hawkishness, now is not the time sell the dollar. Instead, he expects to see USD/CNY move from the current level of 6.9130 towards 7.0000.
The dollar to CNY has only briefly topped 7.000 twice in the last fourteen years: Once during the US/China trade war in 2019 and at the height of the covid lockdowns in 2020. However, the pair looks ripe for a third visit in three years.
The economic slowdown has drawn a response from the Chinese central bank. The PBOC slashed two key interest rates in August in an effort to prop up the ailing property market and kick-start consumption.
China's Struggling Economy
Retail spending has fallen off a cliff in the last few months as households react to lower property prices. Outside of salary's, a large part of China's household wealth is tied to property. According to Tianlei Huang of the Peterson Institute of Economic Research, over 60 percent of household assets are invested in property. Subsequently, the collapsing real estate market has left many feeling the pinch.
Not forgetting, the global economic slowdown is also playing its part. China's major export destinations are struggling to contain rising inflation. As a result, many of the the companies that send money to China for products have high inventory levels. And because of this, we expect imports to decrease even more.
Another problem for the Yuan is the hawkish Federal Reserve. Unlike the PBOC, the FOMC is raising rates, and fast. Following last week's Jackson Hole Symposium, Fed Chair Jerome Powell warned markets of higher rates for longer. The address lifted the dollar to a two-year against the yuan.
With this in mind, we could soon see USD/CNY back at the pandemic highs. Furthermore, the question is, what, if anything, can the PBOC do to stop it going even higher?
USD/CNY Price Chart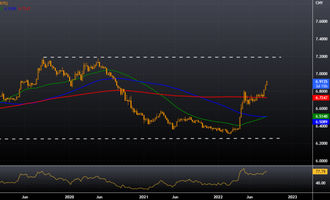 Elliot Laybourne
Elliott is a former investment banker with a 20 year career in the city of London. During this time he held senior roles at ABN Amro, Societe Generale, Marex Financial and Natixis bank, specialising in commodity derivatives and options market-making. During this time, Elliott's client list included Goldman Sachs, JP Morgan, Credit Suisse, Schroders Asset Management, and the Pennsylvania State Public School Employees Retirement System, amongst others. Today, he splits his time between Thailand and Dubai, from where he provides trading consultancy and business development services for family office and brokerage clientele.