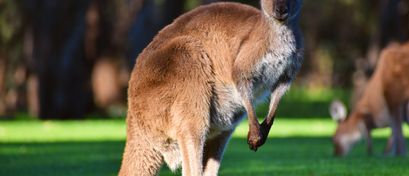 AUD/JPY: How Long Before we See 100?
AUD/JPY has spent the last four months threatening to break out on the upside. So far, the Yen has found a floor at 96.00, but for how long?
Although both currencies have fallen against the US dollar this year, the Aussie is faring better than the yen. AUD is down around 6.00 percent USD, whereas the yen has lost 16.00 percent. Subsequently, AUD/JPY is close to a seven-year high.
The Aussie's relative strength is because of the different interest rate environments. While the Reserve Bank of Australia (RBA) is raising rates to combat inflation, the Bank of Japan (BOJ) is taking a different approach. The BOJ is keeping monetary policy ultra-loose to stimulate the economy. Furthermore, it has no plans to change course.
Speaking yesterday, BOJ board member Nakagawa said, "We must continue with monetary easing to sustainably and stably achieve our inflation target, backed by a positive cycle accompanied by wage growth."
One reason the Aussie is struggling to break above the June highs is falling commodity prices.
The price of iron ore, copper, nickel and zinc have all fallen recently. Particularly iron ore, which is trading at a five-year low. Australia is the global leader in iron ore production, and a sizeable producer of other base metals, most of which go to China.
The economic slowdown in China has accelerated in recent months. However, this morning's Purchasing Managers Index (PMI) data surprised on the upside, which could give the Aussie a boost against the yen.
Aussie Dollar to Yen Forecast
The daily chart shows AUD/JPY is above the 50-Day Moving Average (DMA) at 93.90 (green) and the 100-DMA at 93.18 (blue). The moving averages support a bullish view, as does the Relative Strength Index (RSI) of 56.70.
Taking this into account, we expect AUD/JPY to retest the June high at 68.88 in the coming sessions. If the Aussie to Yen rate clears the June high, we may see 100.00 for the first time since 2015.
The bullish outlook remains as long as AUD/JPY is above the 50-DMA. A close below the indicator should see the rate fall towards the longer-term 100-DMA.
AUD/JPY Price Chart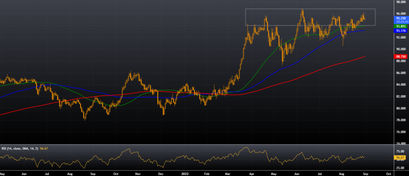 Elliot Laybourne
Elliott is a former investment banker with a 20 year career in the city of London. During this time he held senior roles at ABN Amro, Societe Generale, Marex Financial and Natixis bank, specialising in commodity derivatives and options market-making. During this time, Elliott's client list included Goldman Sachs, JP Morgan, Credit Suisse, Schroders Asset Management, and the Pennsylvania State Public School Employees Retirement System, amongst others. Today, he splits his time between Thailand and Dubai, from where he provides trading consultancy and business development services for family office and brokerage clientele.