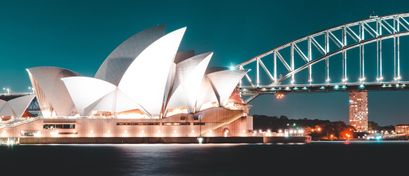 AUD/USD Slides on Weak Metals, Strong Buck
AUD/USD dropped 0.65 percent to 0.6852 on Tuesday, as a combination of weaker commodities and a firmer US dollar conspired against the Aussie.
The Aussie's weakness comes after iron ore crashed below $100 per tonne this week to its lowest price since 2017.
Australia is by far the world's largest producer of iron ore, and one of the largest producers of copper, zinc, and nickel. As such, its economy relies on high commodity prices. Base metals prices have fallen heavily this year as the Chinese economy cools. China is Australia's largest trading partner. As a result, if China sneezes, Australia catches a cold.
China's property market is in ruins. Real estate prices have fallen sharply, and the credit market has frozen. The collapse of the Evergrande Group has increased loan defaults across the sector, leaving many projects unfinished and desperate for cash.
China's economic slowdown and the strong dollar have punished the Aussie this year. The US dollar has seen considerable inflows in the last few months, lifting it higher against its major trading pairs. The greenback's more recent strength follows Fed Chair Powell's hawkish comments at the Jackson Hole Symposium last week and the better-then-expected JOLTs job openings data yesterday.
The general view is that more job openings will lead to better Non-Farm Payrolls and unemployment data on Friday. If this proves true, it gives the fed the green light to ratchet rates even higher.
AUD/USD Price Forecast
Turning to the daily chart, we see AUD/USD is back below the 50-Day Moving Average (DMA) at 0.6908 (green). Notably, last week's rally failed as it neared the 100-DMA at 0.7005. As long as the rate stays below the two momentum gauges, it should trade with a bearish bias.
We find the next support level at the July lows around 0.6700. And below that, the psychological 0.6500 round number follows.
The near-term bearish view relies on AUD/USD remaining below the 50-DMA. For that reason, a close above 0.6908, flips the outlook from bearish to neutral. Whilst a close above the 100-DMA swill be considered bullish.
Aussie to US Dollar Price Chart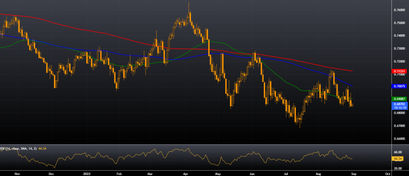 Elliot Laybourne
Elliott is a former investment banker with a 20 year career in the city of London. During this time he held senior roles at ABN Amro, Societe Generale, Marex Financial and Natixis bank, specialising in commodity derivatives and options market-making. During this time, Elliott's client list included Goldman Sachs, JP Morgan, Credit Suisse, Schroders Asset Management, and the Pennsylvania State Public School Employees Retirement System, amongst others. Today, he splits his time between Thailand and Dubai, from where he provides trading consultancy and business development services for family office and brokerage clientele.