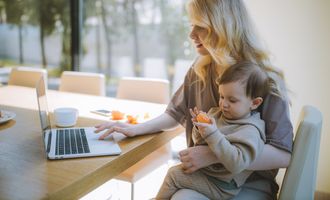 Just 1.4% of Job Adverts Offer Enhanced Parental Leave in 2022

Yasmin Purnell
As the workforce begins to find its new normal following the COVID-19 pandemic, latest figures have revealed that more mothers were employed last year than in the last 20 years – however, enhanced parental leave and child provisions in the UK still leave a lot to be desired.

MoneyTransfers.com has compiled the latest data on parental leave and childcare costs to take a deeper look at how parents in the UK are reacting to the current cost of living crisis.
Employment rate for mothers highest in 20 years
Latest figures from the ONS revealed that the number of mothers with dependent children in work (76%) from April – June 2021 were at their highest level in 20 years. Not only that, in the same period, 92.1% of fathers were also employed, and the employment rate has been higher for mothers than women or men without dependent children since 2017.
The figures are clear; more mothers are returning to the workforce, but is this because of improved attitudes towards working mothers, or because of the rising cost of living?
With the rising cost of living, many parents are being forced into making the decision between working to bring in a higher income, or reducing their hours in order to cut down on astronomical childcare costs.

What's clear is that while many mothers are making a return to the workforce, there is still much to be done to ensure there is adequate childcare provision to enable parents to return to work, and to give mothers and fathers alike time to recover and bond with their children without the additional financial burden of reduced pay."

Jonathan Merry, CEO of MoneyTransfers.com comments
Job Postings with Parental Leave Up 102%
Data from Indeed recently revealed that the number of job postings mentioning enhanced parental leave or shared parental leave were up 102% compared to 2021, and up nearly 4 times the amount compared to 2019.
It's clear, then, that the pandemic shifted many opinions regarding increased flexibility for childcare provision, and prioritising time with family. In addition, it could be argued that enhanced parental leave is a bigger priority due to rising costs in the UK.
A long way to go
Despite the increase in offers of enhanced parental leave, StandoutCV released data to show that in 2022, just 1.4% of job adverts overall offer this benefit. In comparison, 4% of jobs posted offer subsidised or part-subsidised gym memberships – a clear sign where many employers' priorities lie.
Although there may be an increased focus on parental leave provisions within the UK right now, there is still a long way to go to meet people's expectations. InstaPrint asked 2,000 UK aults for their view on existing Statutory Maternity and Paternity Leave, and 31% responded that they felt the current SMP is 'less than adequate', while 47% think the current Statutory Paternity Leave policy – allowing partners to take one or two weeks of leave – is not good enough.
Notably, almost 10% more women than men responded that the current Statutory Maternity Leave is not good enough.
Another study, this one by Fertility Family, found correlating results. 57% of employees surveyed felt that their company's current parental leave policies were inadequate, while 1in 10 (9%) employees felt that their career progression had been restricted after taking parental leave – an experience shared equally by men and women.
Interestingly, 19% of male employees felt that their career opportunities were reduced because they were going to take parental leave – almost double to the number of women who answered the same (11%).
High salaries, company cars, and away days in high regard
Despite many UK adults feeling that current parental leave provisions are inadequate, InstantPrint's research highlighted that it is not as high a priority as other company benefits.
69% of respondents, for example, said they would rather have a competitive salary than enhanced maternity or paternity leave in their job, perhaps reflecting the heightened need for a better income right now considering rising costs of houses, utility bills, and food.
More surprisingly, however, is that 66% valued a company car and private health care more than enhanced parental leave, while 64% even placed company away days in higher regard.
UK Childcare costs compared
One reason work benefits may be placed in higher regard to enhanced parental leave could be the fact that the UK has amongst the highest childcare costs in the world – so long term, parents wanting to return to work need higher incomes in order to afford childcare for their children.
An average couple in the UK on an average wage will spend up to 29% of their wage on childcare. In contrast, Sweden, ranking as one of the best countries in the world for paternal leave, will typically set a family back just £106.83 a month for private childcare.
Pregnant Then Screwed, an initiative that provides free legal advice to women who have been discriminated against due to their pregnancy, found that 81% of women surveyed need childcare to be able to work, but over half do not have the necessary arrangements in place to do their job. 
Additionally, the organisation has revealed that 72% of mothers have had to reduce their hours due to childcare issues, while 1 in 4 parents need to take unpaid leave over summer to manage childcare needs.
Yasmin Purnell
Yasmin Purnell is a Content Writer and Editor for Moneytransfers.com. Yasmin has a wealth of experience writing across a range of topics within the personal finance, student, and business niche. Yasmin joined the team with the one main mission to provide accessible financial, career and business information and advice for all.