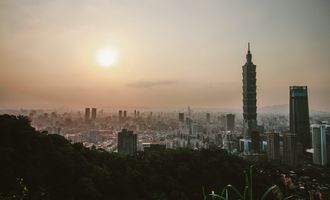 USD/TWD Higher on Escalation: Shots Fired
USD/TWD rose on Tuesday after the Taiwanese military shot at a Chinese People's Liberation Army (PLA) drone as it neared the Kinmen Islands.
Taiwan's Defense Ministry said the military has decided to shoot down Chinese drones if they fail to respond to warnings. This is not the first-time a Chinese drone has filmed Taiwanese solders. Chinese social media platform Weibo has several videos showing drone footage of military outposts in Taiwan. However, it is the first time that Taiwan has taken firm action.
At around 5:59 pm, a drone entered the restricted air space over Erdan Island once again. The defense forces issued warnings in accordance with protocol. Because the drone continued to hover over the area, the defense forces opened fire and forced it to leave. The drone flew towards Xiamen at around 6 p.m.,

Taiwan Defense Ministry
Taiwan says it intends to install anti-drone technology to fend off further incursions. The system will employ several methods to deter the drones, including kinetic and non-kinetic actions. Although the government downplayed the encounter, it is a marked escalation in tension between the Taiwan and it's larger neighbour. As such, the Taiwan dollar is likely to remain weaker against the US dollar.
US Dollar to Taiwan Dollar Forecast
The daily chart shows that USD/TWD is comfortably above the psychological 30.00 level. Notably, the rate reached a two-year high of 30.50 in yesterday's session, although slightly softer this morning. Nonetheless, the general feeling is that the US dollar will push higher from here. In this event, initial resistance is seen at the April 2020 high of 30.55. Should the dollar clear this resistance, and extension towards the 2019 high of 31.73 is possible.
Below the market, the 50-Day Moving Average (DMA) at 29.97 (green) and the 100-DMA at 29.70 (blue) support the rally. However, the Relative Strength Index (RSI) of 64.50 is approaching an overbought reading (>70), which may slow the rate of appreciation. Regardless of this, the outlook remains dollar positive as long as the pair is above the 50, and 100-DMA's.
USD/TWD Price Chart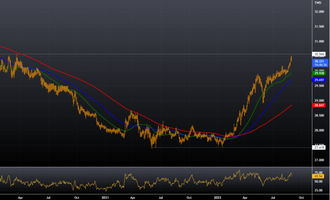 Elliot Laybourne
Elliott is a former investment banker with a 20 year career in the city of London. During this time he held senior roles at ABN Amro, Societe Generale, Marex Financial and Natixis bank, specialising in commodity derivatives and options market-making. During this time, Elliott's client list included Goldman Sachs, JP Morgan, Credit Suisse, Schroders Asset Management, and the Pennsylvania State Public School Employees Retirement System, amongst others. Today, he splits his time between Thailand and Dubai, from where he provides trading consultancy and business development services for family office and brokerage clientele.