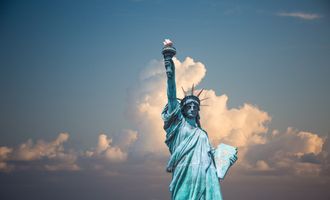 USD/KRW: Unstoppable Dollar Batters the Won
USD/KRW jumped to a fresh 13-year high ahead of tomorrow's US employment data, as Korea's trade deficit continues to heap woe on the struggling won.
The US dollar touched the highest level against the won since 2009 in early Asian trading on Friday. The won's weakness follows the trade balance for August, which showed Korea's trade deficit reached a record $9.5 billion.
The shortfall, the largest recorded since records began in 2000, showed imports exploded 28.2% on the month, with imports rising just 6.8%. Worryingly, shipments of Korea's biggest earner, semiconductors, fell 7.8% in the period. The data put's Korea on track for it's first annual trade deficit since the Great Financial Crisis (GFC) in 2008.
We expect a trade deficit lasting at least into early next year given that imports are unlikely to decline as much as exports do

KB Securities economist, Kim Hyo-Jin
The biggest problem facing Korea is rising energy prices. And here's the issue: The trade deficit weakens the won, which increases the cost of dollar-based energy imports. Which in turn, widens the trade deficit.
Sadly the won is likely to stay weak until the global economy picks up. Maybe then, more institutions will send money to Korea for it's goods and services.
A more pressing concern is tomorrow's employment data across the pond. The non-Farm Payrolls (NFP) and the Unemployment Rate are expected to show a healthy US labor market. If this proves true, the dollar could strengthen further.
US Dollar to Korean Won Forecast
The weekly chart shows USD/KRW has cleared trend line resistance at 1,320, which now proves support. As long as the rate remains above the rising trend, it should trade with a bullish bias.
However, the high Relative Strength Index (RSI) reading of 76.53 may limit new buying. Nonetheless the overall outlook is for a higher dollar. That remains the base case as long as USD/KRW is above the trend line. And for that reason, a weekly close below 1,320, flips the price forecast from bullish to neutral.
USD/KRW Price Chart
Elliot Laybourne
Elliott is a former investment banker with a 20 year career in the city of London. During this time he held senior roles at ABN Amro, Societe Generale, Marex Financial and Natixis bank, specialising in commodity derivatives and options market-making. During this time, Elliott's client list included Goldman Sachs, JP Morgan, Credit Suisse, Schroders Asset Management, and the Pennsylvania State Public School Employees Retirement System, amongst others. Today, he splits his time between Thailand and Dubai, from where he provides trading consultancy and business development services for family office and brokerage clientele.